My Husband  loves to eat Beef , so I constantly search for new recipes ………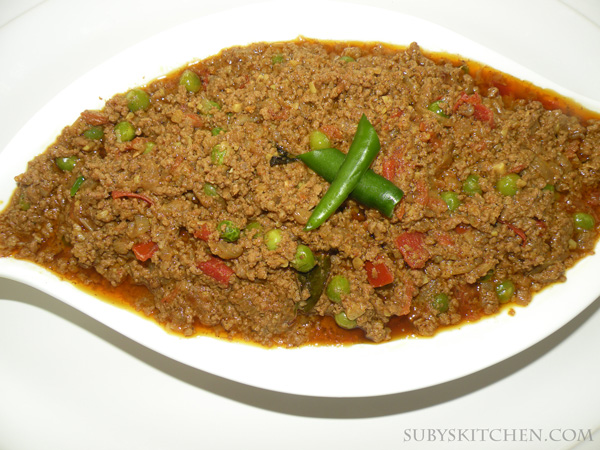 I happened to come across a blog named Yummy O Yummy & she had a good recipe for beef ……… so I taught to give a try .
Ingredients : To make Keema Matar / Minced Meat with Green Peas
1 pound  minced Beef
1/4tsp Cumin Seeds
1 Onion , chopped
2 Green Chillies , finely chopped
Curry Leaves
1tsp Ginger Garlic Paste
2tsp Coriander Powder
1/2tsp Chilli Powder
1/2tsp turmeric Powder
2tsp Garam Masala
1tsp Black Pepper Powder
1 Tomato , diced
2tbsp Yoghurt
Salt
Method :
Heat some Oil in a pan & add Cumin .
Add Onion , Chillies & Curry Leaves .
Saute until Onion turns golden brown in colour .
Add Ginger , Garlic Paste & mix everything well .
Add all the Powder's ( Chilli , Turmeric , Coriander , Garam Masala & Pepper )
Mix everything well & saute until the raw smell of Masala's are gone .
Add Tomato , Meat & Salt .
Mix everything well .
Cover the pan with a lid & cook until the Meat is cooked , occasionally don't forget to stir the mixture .
Add Yoghurt & Green Peas into the Meat mixture & mix everything well .
( If needed add Water to get gravy )
Cook for another 2-3min or until green Peas is cooked .
Add freshly chopped Coriander Leaves & turn off the gas .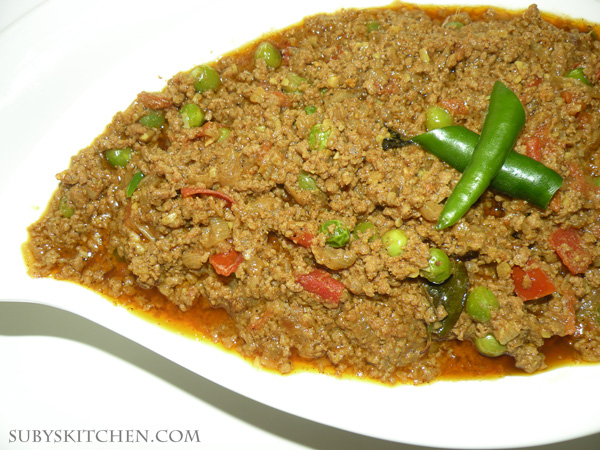 Serve this hot Keema Matar Curry with Rice or with Roti .