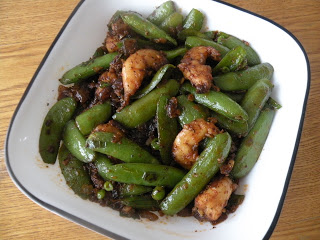 Clean half pound of Sugar snap peas , just remove the edge & pullout the tread on each sides .
In a pan saute 2 chopped  shallots ,3 Garlic & Curry leaves . Add  5 Shrimp & allow it to cook .Using the spatula just  cut the shrimp   into two pieces , then add the Peas , 2tsp Black Pepper Powder & Salt . Mix everything well & serve hot .
This is a easy stir fry & tastes good .
Be  careful  to remove the tread on each sides.