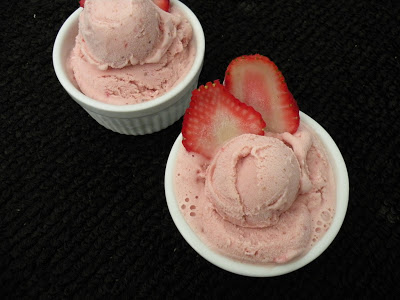 Ingredients : ( To mix Strawberry )
1pint Fresh Strawberry , finely chopped
1tbsp Lemon Juice
1/4cup Sugar
Method :
Mix all the ingredients together & set inside the fridge for 1hr .
Ingredients : ( To make Ice-cream )
2 Egg
1cup Milk
3/4cup Sugar
1tsp Vanilla Essence
2cup Heavy Cream
Method :
In a saucepan mix Egg , Milk & Sugar .
On a very low flame cook the mixture until its warm .
( Continuously stir the mixture .)
Carefully strain the liquid into a small bowl .
Cool the liquid inside the fridge .
Once the Custard is cooled add the Cream ,Vanilla Essence & chopped Strawberry with syrup .
Pour the Custard onto a cold shallow bowl or a pan & freeze .
( Be sure to pour the Custard onto a Cold Pan. )
After 30min carefully take the pan from the Freezer & gently fold the Ice-cream together using a Spatula .
( Don't for get to Scrape all the partially frozen Ice-cream from the sides .)
Beat the mixture for few mins .
Repeat the processes until all the liquid is firmly frozen & You get a creamy & smooth consistency .
Serve the Ice-cream cold with some Fresh Strawberries or with some Chocolate Sauce .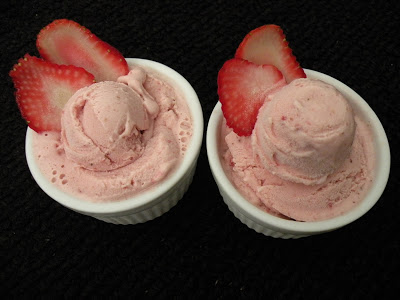 Yummyyyyyyyyyy !!!!!!!!!!!!