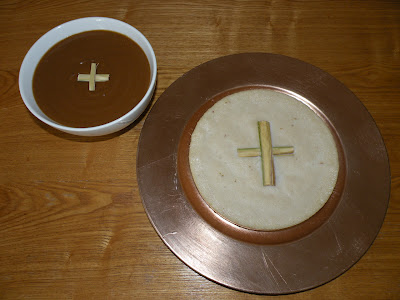 Pesaha Appam and Pal is a very traditional dish made in all Christian homes in Kerala .
On Holy Thursday or Maundy Thursday we Christians make this bread at home . After coming from Church the elder person at home will say the Prayers & cut the bread & give to all other members in the family . In my family we used to go to my Dad's home & there only we cut the bread . This year I want my kids to know our culture & experience the traditions which Me & my Husband  got from our parents .
This Appam or bread is usually eaten with a Pal or syrup made with Jaggery &  Coconut Milk .
Ingredients needed to make Pesaha Appam and Pal:
1st Step making Appam:
1cup Rice Flour
1/2cup Urad Dal
1cup Grated Coconut
4 Shallot
2 cloves of Garlic
1/4tsp Cumin Seeds
Salt
Method :
Soak Urad Dal in water for about 2hrs .
Grind the Dal into a fine paste .
Transfer grinded Dal & Rice Flour onto a big pan .
Grind Coconut , Shallots , Garlic & Cumin into a course paste .
Mix everything together & add Salt .
The batter should have the consistency of an Idly Batter .
If needed add Coconut Milk to thin the batter .
Keep the batter for 2hrs .
Do not allow the batter to ferment .
Pour the batter onto a greased pan & using Palm Leaf  make a Cross on the middle of the batter .
Steam it for about 15min in an Idly pan or Pressure Cooker .
Allow it to cool down & serve with Pal or Syrup .
Ingredients needed to make Pal or Syrup :
3cup Coconut Milk
1-1 1/2 cup melted Jaggery
1/4cup Rice Flour
1/2tsp each Dried Ginger , Cumin & Cardamom Powder
Method :
In a pan boil Coconut Milk & melted Jaggery together .
Mix Rice flour with some water to form a smooth paste .
Add the Rice flour paste to the Coconut Milk to thicken the Syrup .
Turn off the Gas & sprinkle the spices .
Allow it to cool down .
Serve with Appam or Bread .
My recipe for Pesaha Appam and Pal got twiced featured in Manorama Online on 2016 and again in 2017.