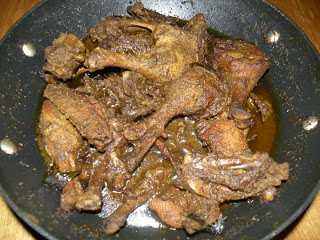 Clean & cut half kg Duck .
Marinate the Duck for 15min with 6tsp Coconut Oil , 6tsp crushed Pepper , 6 Green Chillies , 1tsp Chilli Powder , 1/4tsp Turmeric , 2tsp Garam Masala , 2tsp Coriander Powder , 1tsp Ginger 3tsp Lemon Juice ,Curry Leaves & Salt .
Pour 1/2 cup Water & cook for 30min or until the Duck is cooked well.
Remove the pieces from the gravy & allow the gravy to reduce down . Meanwhile in an another pan fry all the Duck pieces .
When all the pieces are fried put 1 thinly sliced Onion & saute it until it turns golden brown color
Pour the reduced gravy into the pan & transfer all the fried Duck & allow it to boil . Serve it hot with Rice.
This is good recipe . My sister gave me this recipe .
You can use the melted fat of the duck to fry the pieces .
If you are using 2 Ducks be careful while you cook them cos its cooking time will be different .