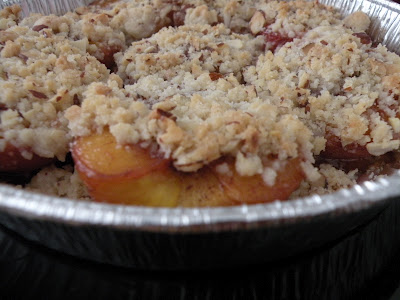 Ingredients : To make Nutty Peach Cobbler
6 Peaches
Score the bottom of the Peaches & immerse them in boiling water for few seconds . Peel off the skin & remove the pits , cut into quarters .
1/2 tsp ground Ginger
1/2tsp ground Cinnamon
1/4cup Sugar
1/4cup Water
Put the Peaches into a saucepan with Ginger , Cinnamon ,Sugar & Water .
Bring to a boil & simmer for 10min .
Remove from the heat .
1/2cup All Purpose Flour
1/4cup Sugar
4tbsp cold Butter ( cubed )
1cup chopped Nuts ( use any kind of Nuts like , Almonds , Cashew , Hazelnut or Pecan )
Make the Streusel : combine all the ingredients together & rub with the finger tips .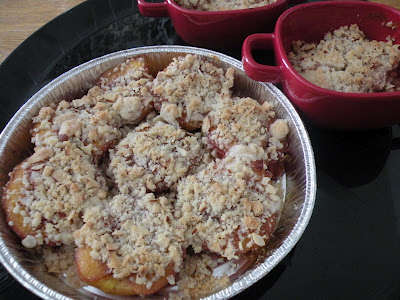 Transfer the Peaches to a pan & spoon on the topping .
Bake in a  400 degree  pre-heated  Oven  for about 20min .
Serve immediately .