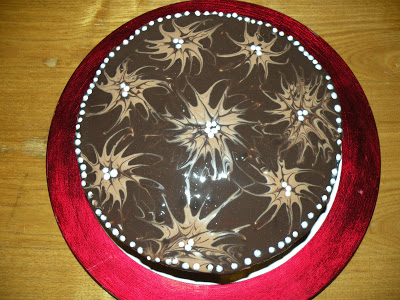 Ingredients : To make Mocha Cream Filling for Cake
1 1/2cup Milk
2/3cup Sugar
3tbsp Cocoa Powder
3tbsp Corn Starch
2tsp Instant Coffee Powder
1tsp Vanilla Essence
1 Egg Yolk ( slightly beaten )
1tbsp Butter
Method :
In a Saucepan stir in Sugar , Cocoa , Corn Starch & Coffee Powder .
Gradually add Milk .
Cook this mixture in a medium flame , constantly stir the mixture until its thick .
Remove from the Heat .
Gradually stir small amount of hot mixture into Egg Yolk , blending well .
Return the mixture into the Pan .
Heat just to boiling , stir constantly .
Remove from heat & add Vanilla & Butter .
Pour into a bowl & press a plastic wrap onto the surface  , otherwise the Custard may form a skin on top & it will ruin the whole texture of the Cream .
Refrigerate until Cold or You are ready to use .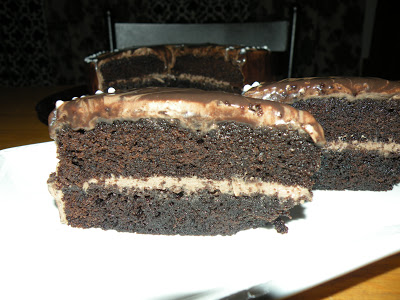 *Note :
To make Mocha Whipped Cream , whip some Heavy Whipping Cream & add  4-5tbsp of Mocha Cream, mix everything well .
I made a Chocolate Cake & layered with Mocha Whipped Cream & poured the Mocha Cream on the top of the Cake .
If the Mocha Cream is too thick to pour add some Milk & loosen it according to your desire .