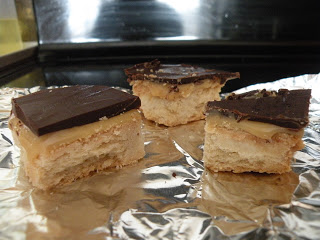 This cookie is very rich , so eat in a moderation . While making this cookie I made  some mistakes , so be sure read the whole procedure properly .
1st step :  Making Shortbread  :
In a bowl beat 1 1/2 stick Butter , 1/4 cup Sugar & 1/2 tsp Vanilla Essence  until light & fluffy . Into that add 1 1/2 cup Flour slowly & mix it until it comes together . Press this dough evenly  into a 9 inch greased pan . Bake this in 350 degree  Pre – heated oven  for about 20min or until pale golden  color . Allow it to cool down .
2nd step : Making Caramel :
In a heavy bottom pan combine 1 tin Condensed Milk ( 14 ounce ) & 2tbsp Butter . Cook it in a low heat , stir it continuously & bring it to boil .Stir the mixture until it thickens & turn amber in  color . Pour this mixture on the top of the cooled Shortbread & spread the caramel evenly . Allow it cool down .
3rd step :  Chocolate Topping :
Using double boiling method melt 6 ounce of Chocolate , use any kind of Chocolate ( Semi -Sweet , Dark  or Milk Chocolate  ) .  Pour this Chocolate mixture  on the top of the cooled  Caramel & spread it evenly . Allow the Chocolate to cool down in room temperature , then keep it inside the fridge to slightly harden .  Do not allow the Chocolate to harden too much inside the fridge , it will be hard to cut the pieces . Using a sharp knife cut the Cookies into equal square pieces & enjoy the Cookies .
When I made this Cookie I kept it inside the fridge for a long time & my Chocolate layer got too harden & it made my Chocolate to split & didn't get any uniform pieces . So be careful about this ……………