Meen Peera  /  Fish Podimas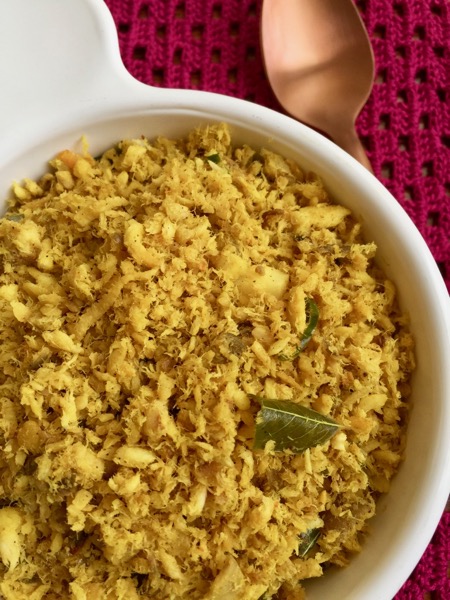 Ingredients needed  to make Meen Peera  /  Fish Podimas
1st Step:
1pound Fish Fillets, I used Tilapia
1/4tsp Turmeric Powder
1tbsp Vinegar
Salt
Water, as needed
Method:
Combine all the ingredients together in a pan and cook until Fish is fully cooked.
Allow it to cool down, then carefully drain all the liquid.
2nd Step:
1 Onion , finely chopped
4cloves of Garlic, minced
4-5 Green Chillies , chopped
Curry Leaves
2tsp Chilli Powder
1/4tsp Turmeric Powder
3/4tsp Garam Masala
Salt
1cup grated Coconut
Coconut Oil
Method :
Heat some  Oil in a  pan.
Add Onion and Curry Leaves
Saute until Onion turns light brown in color.
Add  Garlic & Green Chillies.
Saute until raw smell is gone, will take only 1-2min.
Add Chilli Powder and Turmeric.
Saute for few mins on low flame.
Add grated Coconut and saute until Coconut is lightly dried up.
Carefully add Cooked Fish and mix everything together.
While sauteing, try to mash Fish peices.
Cook until all the Fish peices are fully combined and dried.
Add Salt and Garam Masala.
Mix everything well.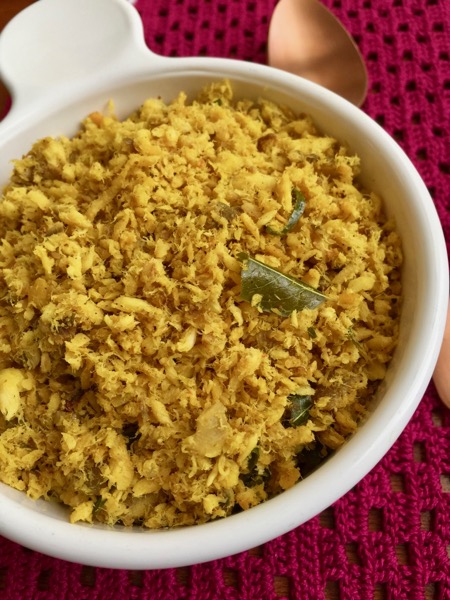 Serve Meen Peera  /  Fish Podimas hot with Rice.