Ingredients needed for Medu Vada / Uzhunnu Vada:
2cup Urad Dal/ Uzhunnu Parippu
10 Shallots, finely chopped
5-6 Green Chillies, finely chopped
1tsp Ginger, finely chopped
Curry Leaves, finely chopped
Salt
Oil, for frying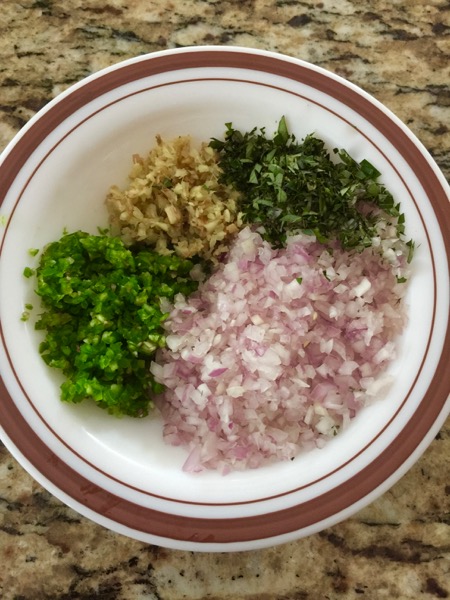 Method:
Wash Urad Dal well & soak in water for about 2-3hrs.
Drain the liquid & using a grinder, grind it into a smooth paste.
While grinding the Dal, always make sure not to add too much of water. If needed then sprinkle some water.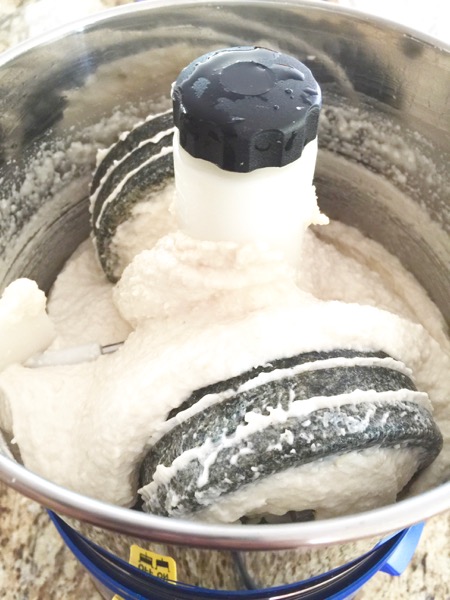 Transfer the smooth Urad Dal paste into a bowl.
Add Shallots, Chillies, Ginger, Curry Leaves & Salt.
Mix everything well.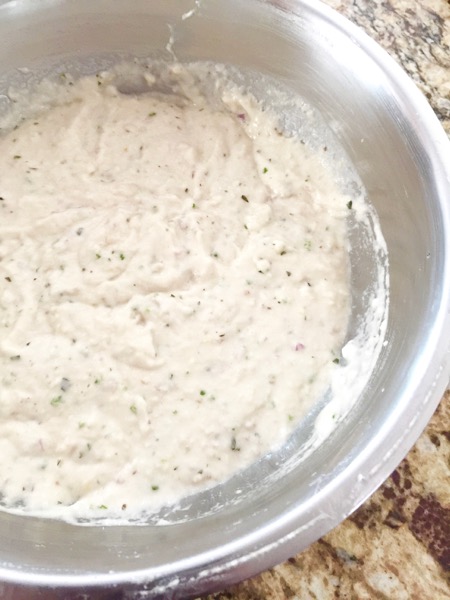 Allow it to rest for about 15-20mins.
Heat some Oil in a pan & fry some Vada's until it turn light golden brown in color.
( To make the shape: Wet your hands in some Water & take a small portion of dough & roll it into a ball. Using your thumb press down the middle of the dough to make a hole. Carefully drop it into the hot oil & allow it to cook. Fry those Vada's/Fritters until it gets a  golden brown color. )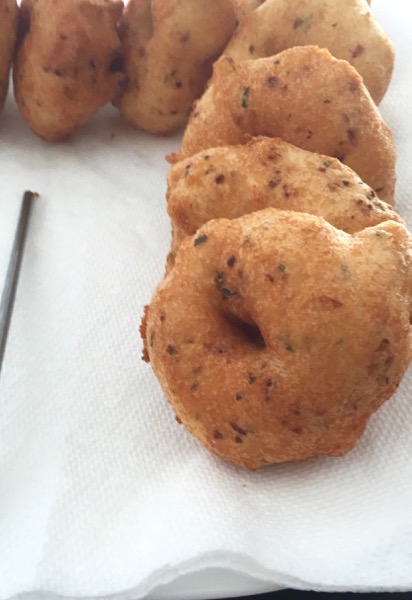 Transfer Medu Vada / Uzhunnu Vada to a tissue paper lined plate to  drain some excess oil.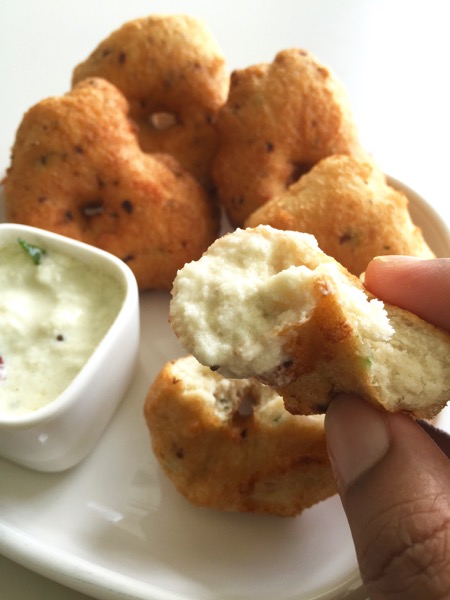 Serve it hot with some Coconut Chutney & Tea.
Enjoy!!!!!!!!!
*Notes:
Medu Vada / Uzhunnu Vada is a popular tea-time snack in Southern part of India. Medu Vada / Uzhunnu Vada looks exactly like a savoury version of Donuts. When the weather is cold and raining, my family loves to have Medu Vada / Uzhunnu Vada with Tea or Coffee.
While grinding Urad Dal always make sure not to add too much  Water. If accidentally you added more water then  sprinkle some Urad dal flour or Rice flour .
For frying you can use any kind of Oil, I used extra light Olive Oil.
Try to keep the flame in medium low, otherwise Vada will not get fully cooked from inside.
Some people don't like to bite Chilies & Ginger in their vada, it's perfectly fine to grind those with the Urad Dal.
It's better to chop Onion & Curry Leaves into very fine pieces, otherwise it will brown up easily & turns the flavor.