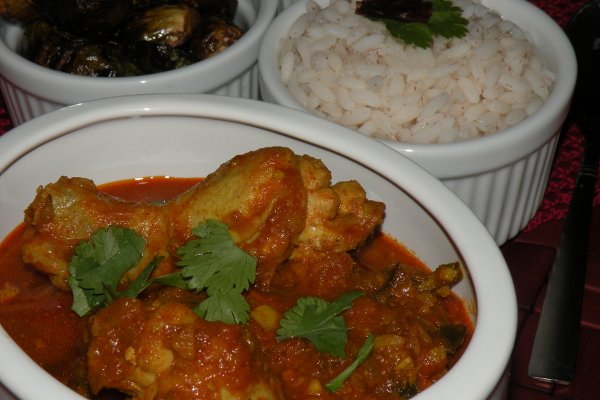 Kerala Style Chicken Curry or Nadan Chicken Curry is the most important or basic recipe from Southern part of India .Each home has their own variations in adding spices .
In my home this is how my Mom makes it & this recipe is very close to my Heart & my Childhood memories .
Ingredients to make Kerala Style Chicken Curry

1 Whole Chicken sliced into medium sized pieces
1 Large Onion , finely chopped
3tbsp Garlic Paste
3tbsp Ginger Paste
Curry Leaves
Coriander Leaves , finely chopped
2tbsp Chilli Powder
1/2tsp Turmeric Powder
1tbsp Garam Masala
3 Tomato , diced
Salt
Coconut Oil
Method :
Heat some Coconut Oil in a pan & sauté Onions & Curry Leaves .
Stir occasionally, until Onions turned golden brown in colour .
Add Ginger & Garlic Paste .
Stir everything together for about 30sec .
Add all the Powder's ( Chilli , Turmeric & Garam Masala ) .
Saute until the raw smell of Chilli Powder is gone, takes around 1min in high flame .
Add Chicken , Tomato & Salt .
Mix everything well .
Cover the pan with a lid & stir occasionally, until the Chicken is cooked trough & the Tomatoes are mashed .
Sprinkle some Coriander Leaves & turn the gas off .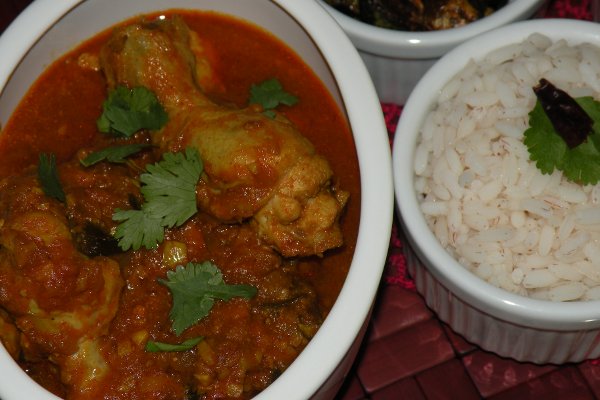 Serve the Chicken Curry with Rice / Paratha / Puttu or even with Bread .
Enjoy !!!!!!!!
Notes :
You can always reduce or increase the amount of Chilli Powder, its up to Your taste .
In my Home, we love Ginger Garlic Paste a lot, so I usually use it more .
You can always reduce the usage of Ginger Garlic Paste to Your taste .
In this curry, You can also add some Potatoes too ( will give more quantity ) .
I never add Water when I make Chicken Curry, usually in 2-3min after adding Chicken, You can see water & juices coming from Chicken .
Please click for the video recipe Spicy Kerala Style recipe