Kerala Beef Curry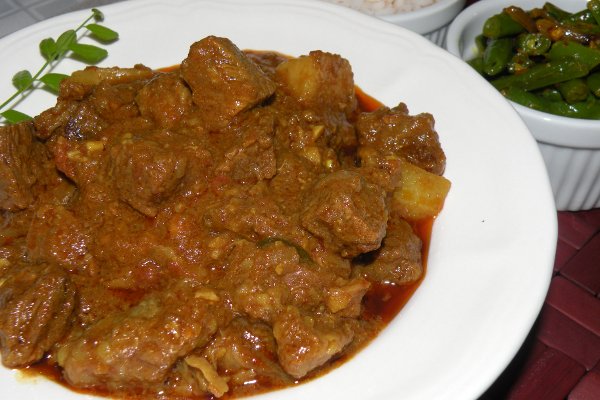 Ingredients to make Kerala Beef Curry :
4 pound Beef, cut into medium size pieces
1 Onion, finely chopped
2tbsp Ginger, grated or finely chopped
2tbsp Garlic, finely chopped
3-4 Green Chillies
Curry Leaves
2-3 Tomato, diced
2-3 Potato, diced ( optional )
5tbsp Coriander Powder
1-2tbsp Chilli Powder
1tsp Turmeric Powder
1tbsp Garam Masala
Black Pepper Powder
Salt
Coconut Oil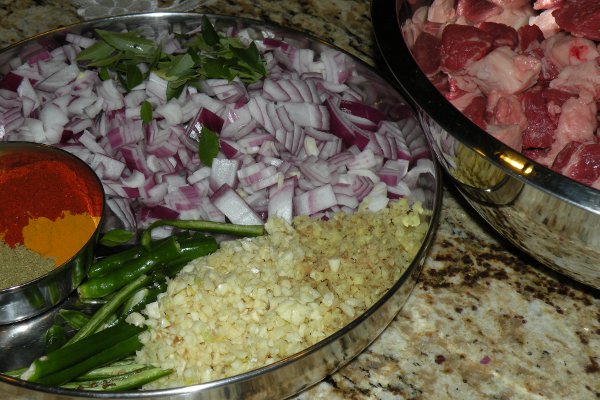 Method :
Heat some Oil in a pan & sauté Onion , Green Chillies & Curry Leaves together .
Sauté until Onion turns light golden brown in colour .
Add Ginger & Garlic .
Sauté for few minis & then add all the Powder's ( Coriander, Chilli, Turmeric & Garam Masala )
Sauté until the raw smell of the Powder's are gone, it will takes 2-3 minis in low to medium flame .
Add Beef, Tomato & Salt into the pan .
Mix everything well .
Cover the pan with a tight lid & allow the Beef to cook .
Don't forget to stir .
If needed You can add Water to make more gravy .
Cook until the Beef is cooked trough .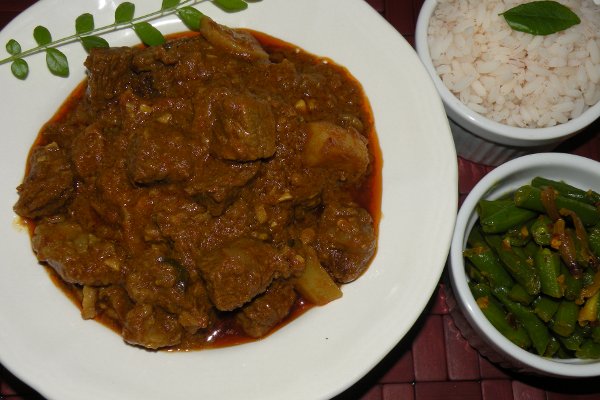 Serve it hot with Rice or with Roti or even with Bread .
Enjoy!!!!!!!!!
*Notes :
I always buy Chuck Roast or Pot Roast or Chuck Steak to make this curry . This type of cut always has a good amount of Meat & Fat, which is very important to make this Beef Curry .
You can always adjust the Chilli Powder according to Your taste .
I always add 2-3 Potato in my Beef Curry, to increase the quantity & also I like the Potato cooked in Beef fat .