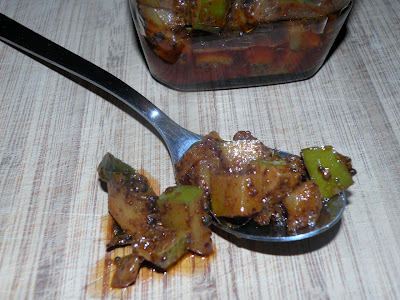 This is my Mother-in-laws recipe . Its a very easy recipe to make . So lets start :
1/2kg Raw Mango ( I used 2 big Mangoes )
1tbsp Salt
Don't remove the skin of Mango  & chop into small pieces .
Add Salt & marinate for at least 1day .
I kept for 2days .
To make Powder you need :
1tbsp Mustard Seeds
1/2tsp Fenugreek Seeds
Put both of the seeds in a hot pan & dry roast the seeds , until the mustard is cracked & fenugreek turns golden brown in color .
Be careful while dry roasting , try to low the heat & be sure to swirl the pan .
Put this into a blender & make a fine powder out of it .
Keep it in a side .
For the Achar you need :
7tbsp Coconut Oil
1tsp Mustard Seeds
1/2tsp Fenugreek Seeds
2 1/2tbsp Chili Powder
Curry Leaves
Vinegar
Salt
In a pan heat the Oil & crack Mustard , Fenugreek & Curry leaves .
Low the heat or remove the pan from heat & add Chili Powder & grinded Mustard &Fenugreek  Powder .
Mix everything well & add the Mango .
Allow it to evaporate all the liquid .
Add Salt if needed & also add Vinegar according to your taste .
Allow it to cool down & transfer to a glass jar .
You can keep this for 2 days outside . After that keep it inside the fridge to last long .
 I used around 3-4tbsp Vinegar .
The vinegar I use is a Philippines Coco Vinegar .This is very mild & tastes very good .
If you use Synthetic Vinegar be careful while adding , it could over power your whole dish .
When you make any kind of Pickle or Achar add some Sugar , it will allow the pickle to enhance all the flavors .