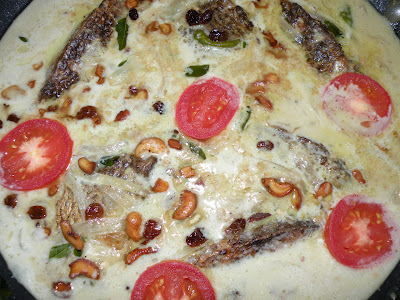 I had tried a lot of Fish Molly recipes , but this is for the 1st time I felt this is the recipe I want everyone to try . My sister gave me this recipe . When I was writing down the recipe I felt nothing special , but still I taught to give a try . OMG , it is the tastiest Fish Molly I ever tried . So for this recipe I used 6 steak pieces of  Porgy . You can use King Fish or Pearl Spot . For this recipe you need :
Marination :
3tbsp Ginger Juice
1tbsp Black Pepper Powder
1/2tsp Turmeric Powder
1/4tsp Garam Masala
Salt
Coconut Oil for frying
Mix everything well & marinate the fish for 1/2 hrs .
Then fry the Fish .
If you like to shallow fry do the same .
I fried my fish until it turns golden brown color .
For the Gravy :
2 Big Onions                           1 stick Cinnamon
5-6 Green Chilies                    5 Cloves
4 cloves of Garlic                    4 Cardamom
2tbsp grated  Ginger                2cup thin Coconut Milk
Curry Leaves                          1/2cup thick Coconut Milk
1tsp Garam Masala                 16 Cashews soaked & grinded
1tsp Pepper Powder               Salt
In a pan heat some Coconut Oil & add Cinnamon ,Cloves & Cardamom .
Add thinly sliced Onions , Green Chilies , chopped Garlic , Ginger & Curry Leaves .
Saute the Onions until it turns transparent .
Add the thin Coconut Milk , fried Fish & Cashew paste .
Bring everything to boil & add Garam Masala , Pepper powder & Salt .
If you feel you need more heat add more Pepper Powder according to your taste .
Turn off the gas & add the thick Coconut Milk .
For Garnish :
Cashew Nuts
Raisins
Ghee
Tomatoes
Fry some Cashew & Raisins in some Ghee .
Pour this on the top of the Fish Molly .
Cut the Tomatoes in rounds & place on the fish .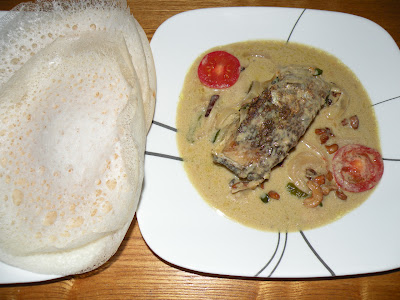 Serve it hot with Appam or Bread .