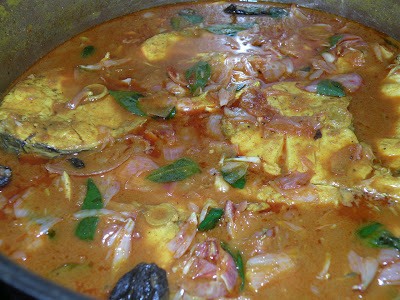 This is an easy Fish curry .My Mom used to make this curry when we get a lot of Fish .  It doesn't have any measurements ,its according to each persons taste .The only thing you should be particular is to , allow the curry to sit for atleast 3days . So lets start cooking :
In this recipe I used 6 pieces of  Porgy , you can use any  kind of fish .
In a big pan add some Water , Salt , Turmeric Powder &  5-6 Kudampuli .
When water is boiling add the Fish .
Cover the pan with a lid & allow the Fish to cook .
Let this curry sit outside for at least 3days .
Try to boil the curry every day , otherwise the curry will get spoil .
On the 3rd day heat the curry again .
In a big serving  bowl take some crushed Shallots , take around 10 Shallots , more is good .
Into that add Chili Powder  , Curry leaves & Coconut Oil .
Mix it well .
Add the Chili Powder according to your taste .
Carefully place  the  Fish onto the crushed Shallots .
Add some gravy of the Fish into the bowl & carefully mix everything .
Serve it hot with Rice .