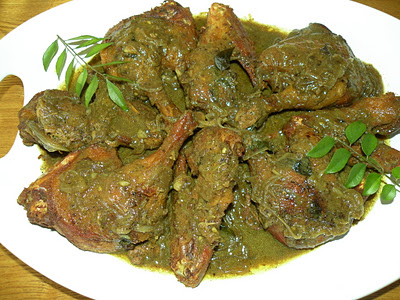 Duck Roast ( Amma Special ) is only my favourite dish from my Childhood .
In each family recipe for Duck Roast is really different, some uses Shallots instead of Onions & even the usage of Spices will be very different .
Ingredients needed to make Duck Roast :
1 Duck , cleaned & sliced into big pieces ( don't remove the skin )
3tbsp Coriander Powder
1tbsp Chilli Powder
1tsp Turmeric
2tbsp Garam Masala
Black Pepper Powder
2tbsp Ginger, grated
5cloves of Garlic, crushed
2-3 Green Chillies
Curry Leaves
Salt
3 large Onion, thinly sliced
Oil for frying
Method :
In a big pan mix together  Duck pieces, Coriander Powder, Chilli Powder, Turmeric Powder, Garam Masala , Black Pepper Powder, grated Ginger, grated  Garlic, Green Chillies, Curry Leaves & Salt .
Cover the pan with a tight lid  & cook the Duck .
Stir occasionally .
When Duck is cooked trough, fry them in Oil until it turns golden brown in colour .
When all the Duck pieces are fried, into the leftover Oil add thinly sliced Onions .
Sauté until Onion turns golden brown in colour .
Carefully pour the gravy into the fried Onions & allow the gravy to cook & reduce down a little .
You can mix fried Duck into the gravy, but I always pour Gravy on top of the Duck only before serving  otherwise its crispy texture will go .
Place the Duck pieces in the plate & pour the gravy on  top of Duck .
Serve it hot with Rice or Roti or even with Bread .
Enjoy !!!!!!!!!
*Notes :
While cutting the Duck I saved all the extra skins & cooked it along with the gravy .
Then fry each skin pieces until its  very crispy .
Serve it hot as an Appetizer .
My son love  Fried Duck Skin .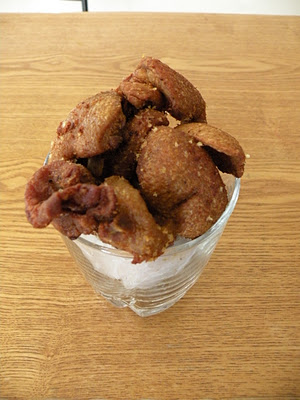 This Duck Roast is my Mom's Recipe ……………