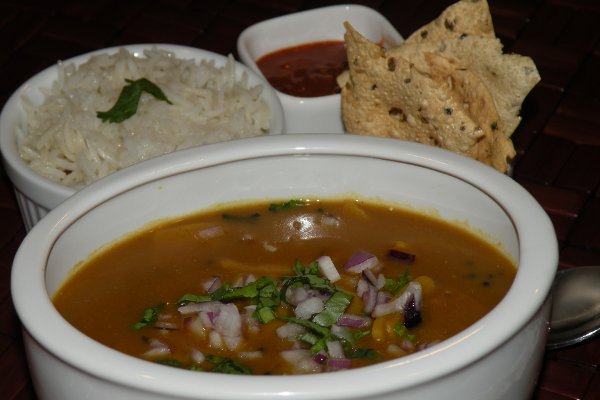 Dal Dhokli is a one pot Gujarati dish . It's a very satisfying Meal or a Soup .
I made this on a cold winter day & my whole Family just loved it .
Ingredients to make Dal :
1/2cup Masoor Dal , cooked , refer the notes*
1/4tsp Mustard Seeds
1/4tsp Cumin Seeds
3 Whole Dry Chillies
1small stick of Cinnamon
3 Cloves
Curry Leaves
1/2tsp Chilli Powder
1/4tsp Turmeric Powder
Ginger & Green Chilli Paste , refer the notes*
2 Tomato , chopped
1/4tsp Asafoetida/Hing
Jaggery , according to taste
Lemon Juice , according to taste
Salt
Coriander Leaves , finely chopped
Oil
3 1/2cup Water , if needed add more
Method :
Heat some Oil in a large or heavy bottom pan & add Mustard Seeds .
Allow the Seeds to pop & then add Cumin Seeds , Whole Red Chillies , Curry Leaves, Cinnamon & Cloves .
Add cooked Dal into the seasoning .
Now add all the other seasoning ( Chilli Powder , Turmeric , Asafoetida , Tomato , Jaggery & Salt )
Allow Dal to boil , add water when ever needed .
Dal should have a consistency of runny soup .
As a finishing touch add some Lemon Juice .
Let  Dal simmer on a very low flame until You make Dhokli's .
Taste Dal & make sure everything is fine , You can always adjust the Chilli , Jaggery & Lemon Juice according to Your taste .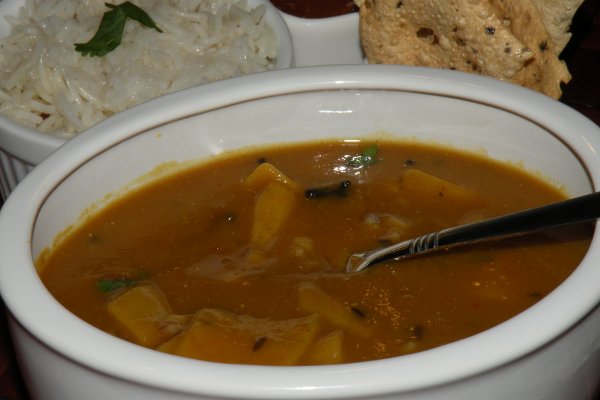 Ingredients to make Dhokli :
1/2cup Whole Wheat Flour
1/2tsp Chilli Powder
1/4tsp Turmeric Powder
Salt
Asafoetida , a pinch
1tsp Oil
1/3cup Water
Method :
In a bowl mix all the dry ingredients together .
Add some Oil & rub it with Your hands .
Carefully add Water little by little & knead the dough well until You get a stiff dough, it should have the consistency of Puri dough .
Allow the dough to rest for 10 min .
Divide the dough into 2 equal parts & roll it into thin circle .
Using a knife cut the dough into diamond shape .
Repeat the same process with the another dough ball .
Final steps for Dal Dhokli :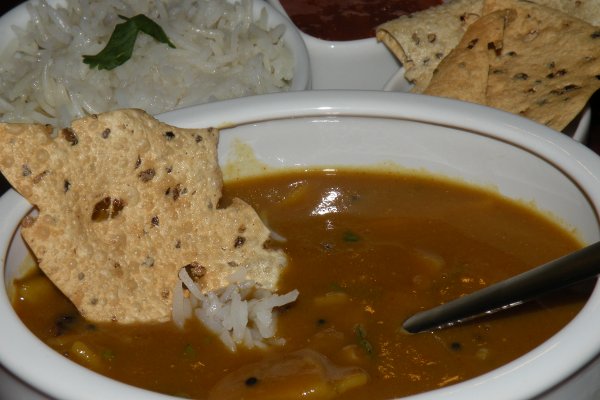 Allow  Dal to boil well .
Carefully add 2-3 Dhokli at a time to the Dal .
If You add all  Dhokli's together it will stick together & make a big clump .
Allow  Dhokli's to cook , don't forget to stir .
If Dal is getting thicker add more Water .
Garnish with Coriander Leaves .
Serve it hot with Rice , finely chopped Onions, Pickles & Pappadam .
Enjoy !!!!!!!!!
Notes*:
Dal Dhokli is usually made with Toor Dal or Pigeon Peas, but in my home we usually use Masoor Dal for all the cooking .
After cooking Dal, I used my blender to make it to a smooth paste .
While grinding my Dal, I also added some Ginger & Green Chillies to it, so that nobody will bite into grated pieces of Ginger & Green Chillies ( it will ruin the enjoyment of the smooth soup ) .
When You mix Your dough for  Dhokli's, You can always add some flavour to it by adding some Kasoori Methi or Carom/Ajwain .