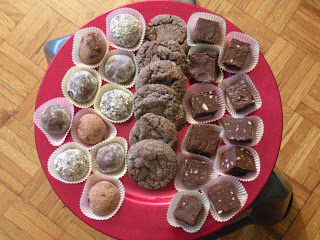 Combine 2cup Sugar , 3/4 cup vegetable oil & 1cup Cocoa Powder in a large bowl & beat it well .Beat 4 eggs & 2tsp of Vanilla essence .
Stir together 2 1/3cup of Maida ,2tsp of Baking powder & 1/2tsp of Salt .Gradually add to Cocoa mixture & beat well .Keep the dough in fridge for 6hrs until it is firm.
Heat oven to 350degree . Shape the dough into 1inch balls & roll in sugar . Keep it onto the cookie sheet about 2inches apart.
Bake 10 to 12min until the top are crackled .Remove from oven & cool it completely .
( In picture the middle one is the Cookie )