Ingredients : To make Chicken Cutlets / Chicken Balls 
1pound minced Chicken
2 big Potatoes cooked and mashed
1 Onion , chopped
4 cloves minced Garlic
1tbsp chopped Ginger
3-4 chopped Green Chillies
Curry Leaves
1/2tsp Chilli Powder
1/2tsp Turmeric Powder
1tsp Pepper Powder
1tsp Garam Masala
Coriander Leaves
Salt
1cup Bread Crumbs
1 Egg beaten slightly
Oil for frying
Method :
Heat some Oil in a pan and  sauté  Onion, Garlic, Ginger, Green Chillies and Curry Leaves.
When Onion turns golden brown in color add all the Powders ( Chilli Powder, Turemric, Black Pepper and Garam Masala ).
Fry  masala on a low flame for 2min or until raw smell is gone.
Add minced Chicken and Salt.
Mix everything well.
Sauté until Chicken is cooked through and the mixture is dried and roasted.
Allow Chicken Masala to cool down.
Add mashed Potatoes and Coriander Leaves .
Mix everything well and combine everything together.
Make small golf sized balls or any shape you like.
Dip each Cutlets in Egg wash and roll in Bread Crumbs.
Deep fry in Oil until each Chicken Cutlets / Chicken Balls are golden brown in color.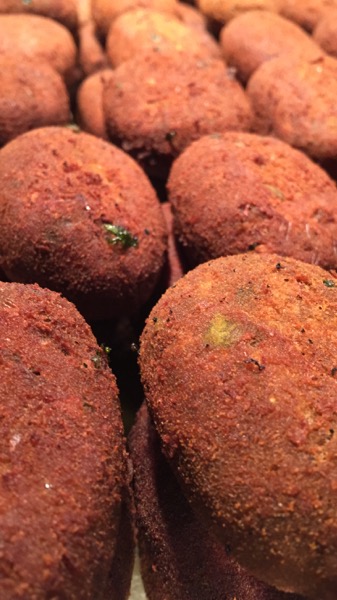 Serve Chicken Cutlets / Chicken Balls hot with some Ketchup or Salad .
Enjoy!!!!!!!!!!!!!!!
For cooking video check: