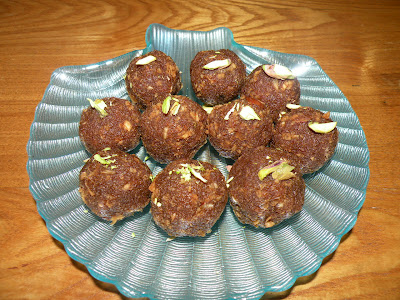 I got this recipe from another blog , Spicy-Aroma . She had shown a step-by-step pictures , how to do this ladoo .Check here : Spicy-Aroma
For this recipe you need :
5-6 Leftover Chapati
1/2cup grated Jaggery
1/4cup  grated Coconut
2tbsp Ghee
6-7 Almonds
1/4tsp Cardamon Powder
Tear Chapati into small pieces & in a low flame dry roast Chapati pieces .
It will take some time to get crispy . On Spicy-Aroma she did it in Oven , so look for that .
Using your blender grind the Chapati into fine powder .
Remove the powder into a mixing bowl & add grated Coconut , sliced Almonds, Ghee & Cardamon Powder .
Carefully add melted Jaggery according to the consistency of a laddo .
I melted my Jaggery in some water .
Mix everything well & make medium sized Ladoo's .