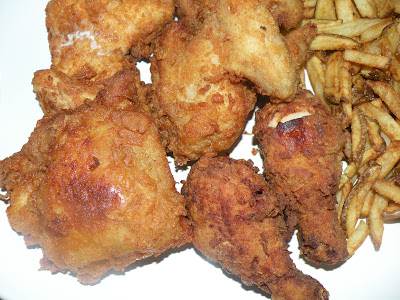 Ingredients : To make Buttermilk Fried Chicken
1 Whole Chicken , cut into 8-10 pieces
2cup  Buttermilk
1/2tsp Paprika
1/2tsp Cayenne Pepper
1/2tsp Garlic Powder
Salt
Mix all the ingredients together & marinate the Chicken for atleast 8hrs .
1cup Flour
1tsp Cayenne Pepper
1tsp Paprika
1/2tsp Garlic Powder
Salt
Mix everything well .
Dredge the Chicken in the Flour & tap off the excess flour .
Heat the Oil in a deep skillet & fry the Chicken ( don't over crowed , do in batches ).
Cover the pan with a lid & cook for 5min in medium-low heat , then  turn occasionally until Chicken gets a deep golden colour  & its cooked through .
Drain the Chicken on a paper towel .
Serve  warm with Fries .