Beetroot Thoran / Beetroot Upperi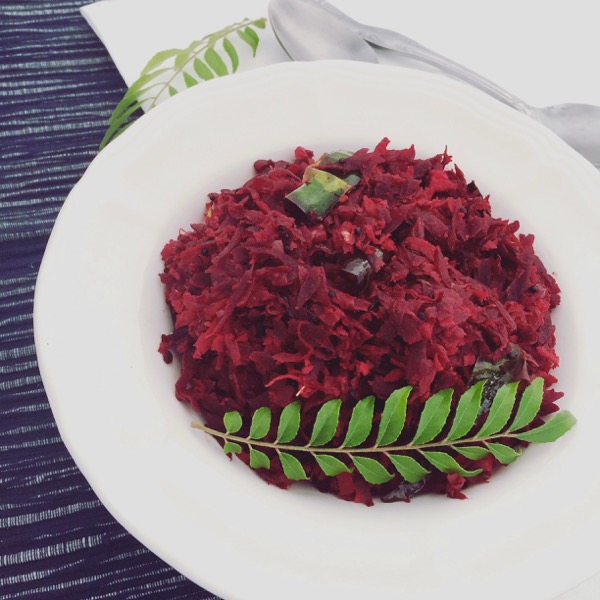 Ingredients needed to make Beetroot Thoran / Beetroot Upperi:
2 Beetroot, grated
3-4 Shallots, thinly sliced
4 cloves of Garlic, minced
4-5 Green Chillies, sliced
Curry Leaves
1/2tsp Mustard Seeds
1/4tsp Cumin Seeds
2-3 Whole Red Chillies
1/4tsp Turmeric Powder
1/4cup Grated Coconut
Salt
Coconut Oil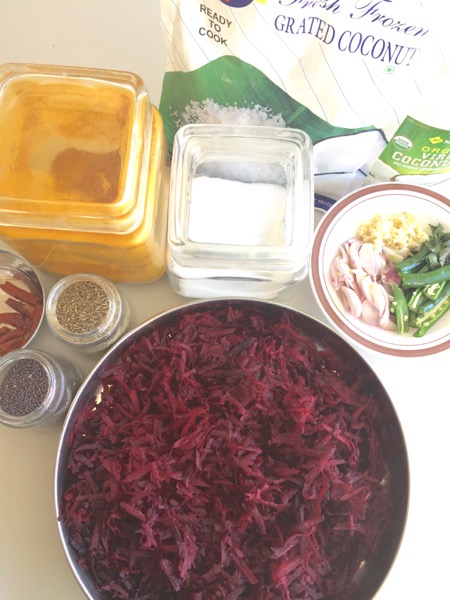 Method:
Heat some Oil in a pan and add Mustard seeds.
When it starts to pop add Cumin seeds and Whole Red Chillies.
Add Shallots, Green Chillies, Garlic and Curry Leaves.
Saute until Onion turns transperant.
Carefully add grated Beetroot, Turmeric and Salt.
Mix everything well and allow Beetroot to cook.
Add grated Coconut and stir everything well.
Allow everything to cook for another 1-2min.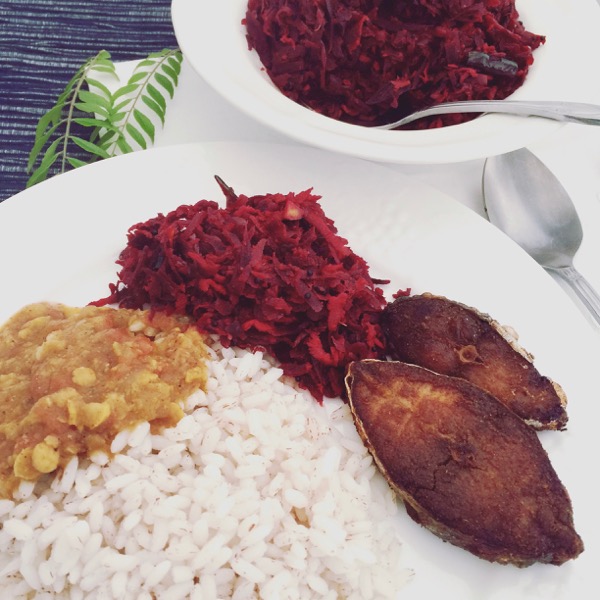 Serve Beetroot Thoran / Beetroot Upperi hot with Rice.
Enjoy!!!!!!!!!
 *Notes:
Beetroot Thoran / Beetroot Upperi is one of the main side dishes served in Sadhya. Beetroot is one of my favorite vegetable and I always try to incorporate in my daily cooking. This particulr style of cooking is very popular in Kerala. Thoran is something you can do with almost all the vegetables. Thoran means finely chopped vegetables cooked in cumin, green chilies and grated coconut mixture. In that you can do a lot of different variations you like.