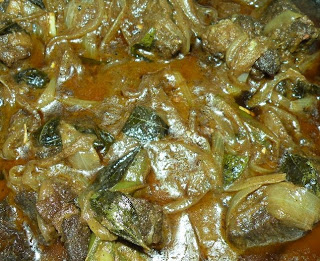 Cut 2pounds beef into big pieces or buy pot roast pieces . Marinate the beef with 3 Green Chilies , 1big piece of Ginger , Curry Leaves , 5tbsp Coriander Powder , 1tbsp Chili Powder , 1tsp Turmeric Powder , 1tsp Garam Masala , 1tbsp Black Pepper Powder & Salt .
( Cook this according to your style . I don't use pressure cooker to cook beef . I used to cook my beef in a big pot putting all the masala's & cover with a tight lid & allow the beef to cook in its on juice . Be sure to stir in between . )
Try not to cook beef too much it should be little tough . Save the gravy .
In a big pan put some oil & fry each pieces of beef .Once frying is done add 3 Onions ( cut lengthwise) into the rest of the oil & saute it until it turns golden brown . Pour the gravy which the beef was cooked . When it boils add all the fried beef back into the pan & mix well . Serve it hot with rice .
( When u buy beef for this recipe buy the pieces which have fat ( not too much ) . When u fry beef put little oil don't put too much cos beef is fully cooked & it will take only few min per side to get brown color .When u cook the beef if u feels it need water pour 1 cup of water . This is my Mom's recipe & I love it .)