Egg Roast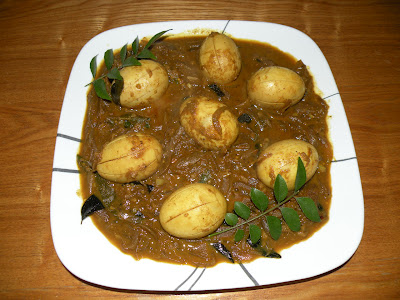 For this recipe I used 7 Eggs . Cook the eggs & peel the shell .
3 Onions sliced  thinly                         3tbsp Coriander powder
6 cloves of Garlic chopped                 1tsp Chili Powder
2tbsp grated Ginger                           1/2 tsp Turmeric Powder
Curry Leaves                                     1tbsp Black Pepper Powder
3 Green Chilies                                  1tsp Garam Masala
Salt
In a pan heat some Coconut oil ( you can use Canola or vegetable oil ) & saute Onions , Green Chilies & Curry Leaves.
Saute the Onions in low flame , until it turns golden brown in color .
Add the Garlic & Ginger . Mix everything well & fry for 2mins .
Later add the spices . Fry for 5min & add some water to make the gravy .
Don't add too much of water .
When the water is boiling add the Eggs & serve hot with Appam .
In this recipe you can add 2 chopped Tomatoes also .
Appam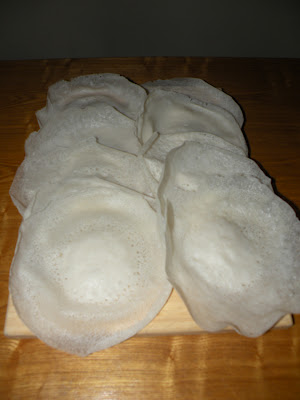 For this recipe I used  :
2 cups  Idly Rice ( Raw Rice )
1 cup grated Coconut
1/2 cup cooked Rice
1tsp Yeast
Water
Sugar & Salt
Wash the Rice & soak in some water for a half an hour .
Drain the water & transfer the Rice to a blender & add  Coconut , cooked Rice , Yeast , Sugar & Salt .
Grind everything well . While adding water be careful , don't add too much of water . The batter should have the consistency of  a Idly batter ( it should be in a thicker consistency , cos after fermenting it will become little watery ) .
Keep the batter for 4hrs or overnight to ferment .
Mix everything well & make Appam using  nonstick Appam Pan .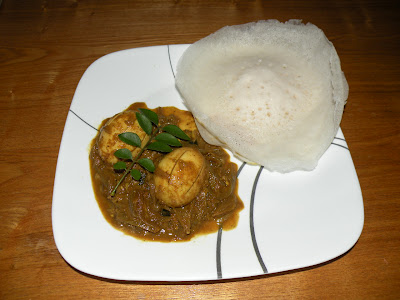 Serve it hot with Stew , Egg Roast or with Kadala Curry .