Today I made an authentic Kerala style Whole Duck Roast  & this is my Grandmother's recipe .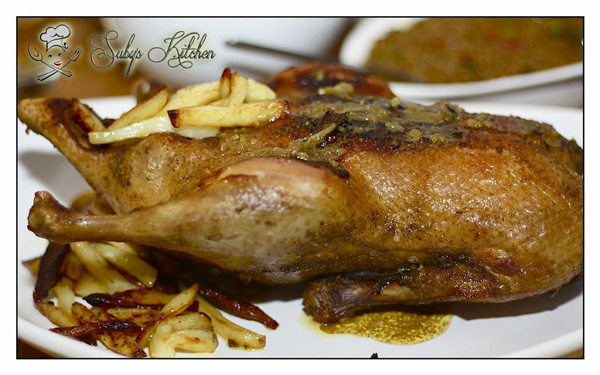 In my Home everyone love to eat Duck & I felt this is an easiest way to prepare  a delicious Duck . So lets start cooking :
Ingredients : To make Whole Duck Roast 
2tbsp Coriander Powder
1/2tbsp Chilli Powder
1/2tbsp Turmeric Powder
1tbsp Garam Masala
1tbsp Black Pepper Powder
Mix all the ingredients together & rub the spices on top & inside the Duck .
Cover the Duck with a plastic wrap & allow the Duck to  marinate inside the fridge for at least 6hrs .
( If there is left over rub , just put on the top of the Duck , don't discard )
Method to cook the Duck :
Water
2tbsp Ginger , paste
2tbsp Garlic , paste
Salt
Take a big wide pan & keep the whole Duck into the pan .
Add 1 cup of Water ,Ginger & Garlic , & if needed add some Salt too .
Cover the pan with a tight lid & cook the Duck on a medium heat .
Occasionally turn the Duck , otherwise it will get brown on one side .
( If there is no Water in the pan , add some )
Cook until the whole Duck is cooked through , it may take 20-25 mins.
In the meantime , dice some Potatoes & arrange them on the bottom of the roasting pan .
( I used 2 Rustic Potatoes )
Remove the Duck from the gravy ( save it ) & place on top of the Potatoes .
Place the pan onto the broiler & broil until You get a nice golden brown colour .
Carefully turn the Duck & allow  the same .
If the Duck is done cooking remove it from the Pan & allow the Potatoes to get cooked in the Duck fat .
To make the Gravy :
1 big Onion , sliced thinly
Duck Gravy ( saved one )
Heat some Oil in a pan & saute the Onions until it turns golden brown colour .
Add the Duck gravy & allow it to boil .
Serve the Duck warm with Potatoes & Gravy .
Enjoy !!!!!!!!!!!