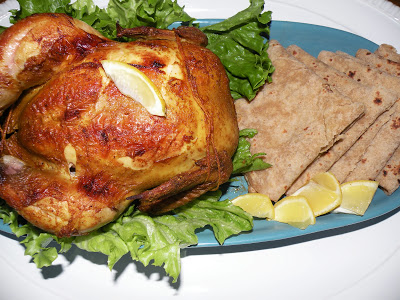 Ingredients :
1 Whole Chicken
8tbsp Coriander Powder , try to take a heap
2tbsp Chilli Powder
1tbsp Turmeric Powder
2tbsp Garam Masala
3tbsp Black Pepper Powder
Salt
Water , as needed
Method :
If You want you can fill the cavity of the Chicken with some diced Onions , Green Chillies & Garlic , it will give a nice flavour to the Chicken .
In a big pan mix all the Masala's / Powder's .
Add a lot of water ( I mean a lot ) , so that Chicken can submerge into the Masala Water.
Cook the Chicken in a low flame .
Cook until the inside temperature of Chicken becomes 165 .
Transfer the Chicken into a baking pan & use the  broiler to get golden brown colour on the Chicken .
If You don't have an Oven , you can deep fry the whole Chicken .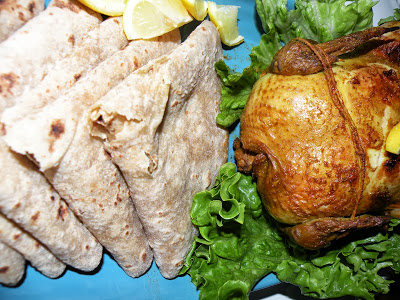 *Note : Before cooking the Chicken try to brine the Chicken .
Brining is a very easy method to do .
It just means soaking the Chicken in a large amount of Water by adding some Salt & Sugar .
For this particular recipe I added  Salt , Sugar , Peppercorns , Coriander Seeds & some pieces of Lemon .
I kept this brining mixture inside the fridge for about 1 whole night .
Next time when You do KFC style fried Chicken or Chicken Roast do this process , it will give You a very moist & juicy Chicken .