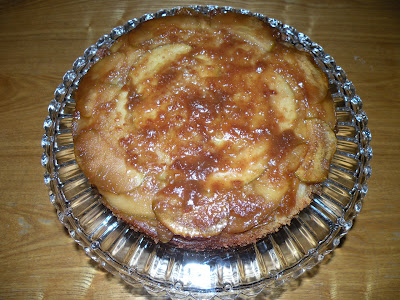 For this recipe you need :
1 cup softened Butter                   1 cup  Flour
1 cup Sugar                                 1tsp Baking Powder
3 Eggs                                         2 pinch Nutmeg
1 tbsp Vanilla Essence                  1/4 tsp Cinnamon
1/4 cup Buttermilk
Mix all the dry ingredients .
In a big mixing bowl beat the Butter , Sugar , Vanilla Essence & Egg .
Add the dry ingredients into the butter , alternating with  the Buttermilk .
To Assemble :
3tbsp melted Butter
2/3 cup Brown Sugar
1 Granny Smith Apple
Pour 3tbsp of melted Butter onto the baking pan & sprinkle 2/3 cup Brown Sugar .
Arrange thinly sliced Granny Smith  Apple on the pan & pour the cake batter on top of the Apple .
Bake on a 350 degree pre-heated Oven for 45-50min or until the wooden pick inserted in the center comes out clean .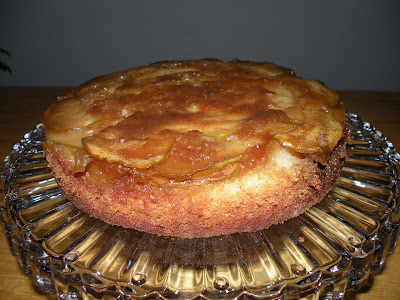 Allow it to cool down & serve with a scoop of Vanilla Ice-cream .