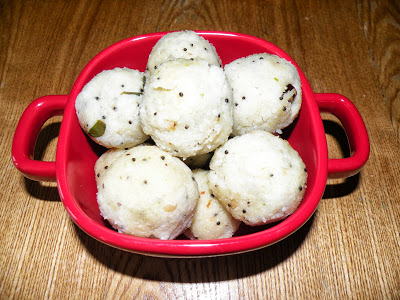 Ingredients : (To Grind )

1tbsp Urad Dal
1tbsp Channa Dal
1/2cup Grated Coconut
2 Whole Red Chillies
2 Green Chillies
Method :
Mix all the ingredients together .
Using a grinder make a smooth paste .
Keep it a side .
Ingredients : (To Make Upma )

1cup Raw Rice , I used Ponni Raw Rice
1tsp Mustard Seeds
1tsp Urad Dal
1tsp Channa Dal
1 Whole Red Chillies , splited
Curry Leaves
1/2tsp Hing/Asafoetida
3cup Water
Salt
Coconut Oil or Ghee
Method :
Using a Blender make a course flour of Raw Rice  , just the consistency of Rava .
Heat some Oil in a Pan & splutter Mustard Seeds .
Then add the Dal , Chillies & Curry Leaves .
Mix everything well & add 3cups of Water .
Allow it to boil .
Add Salt & Hing to the Water .
Mix everything well .
Add coarsely grinded Rice .
Stir continuously until all the Water is evaporated & You get a thick mixture , just like Upma .
Allow it cool down for about 10-15min .
Grease Your hands with some Ghee or some Oil & make small balls out of Upma , You can make small or big Dumpling/Kozhukattai.
Using a Steamer or Idly cooker steam all the Dumplings/Kozhukattai for 10min .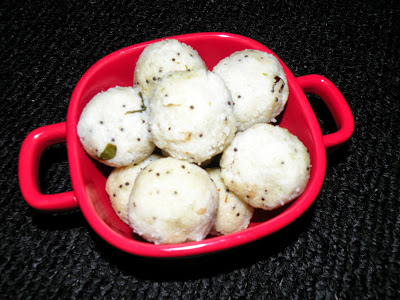 Serve it hot with some Coconut Chutney .