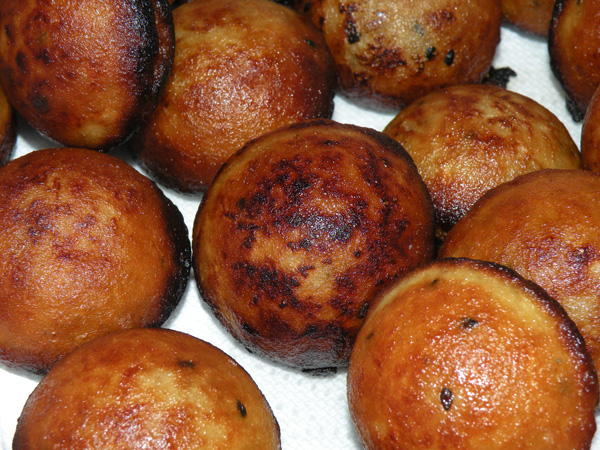 I love to eat Unniyappam with my hot Coffee in the evening …….. Its a snack which takes me back to my home …………. according to Me , my Mom makes the best Unniyappam in whole Kerala …..Her recipe is little different from other recipes  ……I had seen recipes call for Banana in the batter , but in this particular recipe there is no Banana …………… She never used Banana in the batter , but still her Unniyappam will be very moist & soft ………….
Ingredients : To make Unniyappam / Neyyappam / Kareppam
1st Step :
1cup Jaggery ,melted
1 1/2cup grated Coconut
1/4tsp Cumin Seeds , powdered
4 Cardamom , powdered
1/4tsp Dry Ginger Powder
1tbsp Ghee
Method :
Mix melted Jaggery & Coconut in a  pan & cook until all the water is evaporated & the mixture is dry .
Turn off the Heat & add rest of the ingredients .
Mix everything well & allow it to cool down .
2nd Step :
1cup All Purpose Flour
1cup Rice Flour , use roasted Flour
1cup Jaggery , melted
Black Sesame Seeds , as Your taste
Water , as needed
Method :
Mix both the Flour together in a big pan .
Carefully add melted Jaggery & mix everything well .
At this point , add Sesame Seed & Coconut-Jaggery mixture .
Mix everything well .
Taste the batter & make sure there is enough sweetness to the batter , if not then add Jaggery syrup according to Your taste .
If needed add some water & mix the dough until it has the consistency of Idly Batter .
Allow the Batter to rest for some time .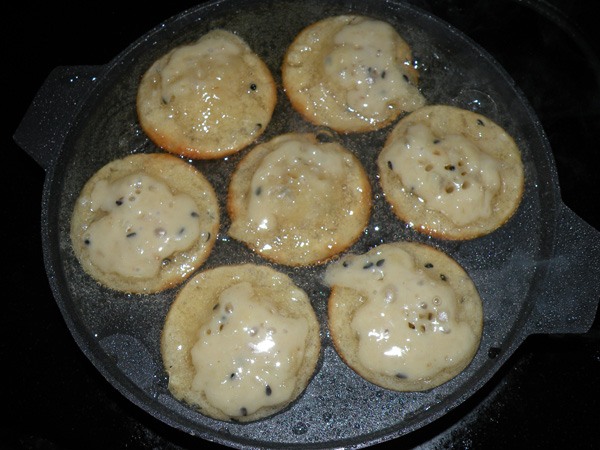 3rd Step :
Oil , for frying
Heat some oil in a Unniyappam Pan .
Pour 2-3tbsp full of batter into each rounds .
Cook them until it turns golden brown in colour .
Don't forget to turn the Unniyappam to cook from the other side .
Remove from the Oil & allow it to drain all the Oil on a paper towel .
Serve Unniyappam with Your Hot Tea or Coffee .
Enjoy !!!!!!!!!