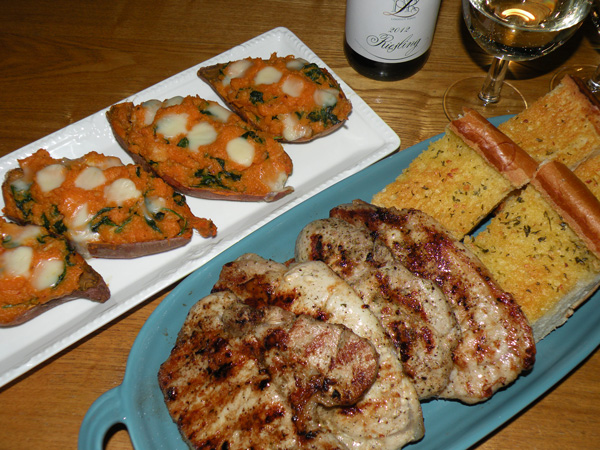 Last night I  watched a show on Cooking Channel named " Not my Mama's meal " . In that show Bobby Dean made a Twice baked Potato with Shrimp & Spinach . It was so easy to make , so I taught to give a try for that  recipe , cos I love Sweet Potato .
So today I made it for my Dinner at Home . I just twisted  the recipe to give the recipe my own  touches , I didn't put  Sour cream on my dish , instead I added some Greek Yoghurt . Also I added some Red Pepper Flakes in the dish to spice up everything . Overall it was a perfect dish . So lets start Cooking :
Ingredients : To make Twice Baked Sweet Potato
3 large Sweet Potato
1 pound Shrimp , cleaned & diced
1cup Spinach
3 cloves of Garlic , chopped
2-3 pinch Pepper Flakes
2tbsp Greek Yoghurt
3/4cup Mozzarella Cheese , grated
Salt & Black Pepper
Method :
Pre-heat Oven to 350 degree .
Wash the Potatoes well .
Prick the potatoes well using a fork .
Then bake the potatoes for about 1hr or until its soft .
Allow it to cool down & then carefully slice the potatoes in half .
On to  a bowl  gently scoop out the flesh .
Heat some Oil in a pan & saute Garlic , Shrimp & Spinach .
Add some Salt , Pepper & Red Pepper Flakes according to Your taste .
Mix everything well & cook until Spinach & Shrimp is cooked .
Transfer the Shrimp & Spinach mixture into the Sweet Potato bowl .
Add Yoghurt & 1/4cup grated Cheese into the Sweet Potato bowl .
Mix everything well .
Carefully refill the Potato skin with Shrimp , Spinach & Sweet Potato mixture .
Sprinkle leftover Cheese on top & bake until the Cheese is melted .
Serve it hot as a side dish for Your Dinner or Lunch .
Enjoy !!!!!!!!!