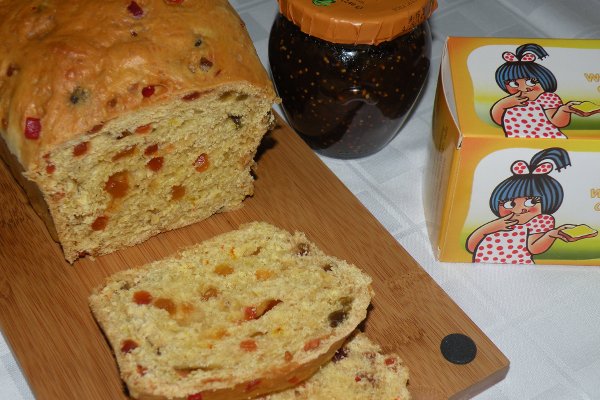 Tutti Frutti is a colourful confection containing dried candied Papaya.
This Bread takes me back to my Childhood , & I still remember eating this bread . My Mom used to buy me Tutti Frutti Bread from a near by Bakery . Its been a long time I was trying to recreate this Bread . I tried my best & I think , it came out with flying colours .
Ingredients needed for Tutti Frutti Bread :
3 1/2cup All Purpose Flour
2tsp Instant Yeast
1tbsp Sugar
1tsp Salt
1cup Warm Milk
2 Eggs , slightly beaten
2tbsp Butter , room temperature
1 cup Tutti Frutti
Pinch of Saffron , optional
Note :

For kneading I used my Kitchenaid Stand mixer . If You don't have a stand mixer its always good to use Your hands .
If You are using Saffron try to soak it in the Warm Milk for about 5min .
Always try to keep extra Flour , when You knead the dough You may need more .
In USA, you can find this in any Indian grocery shops ( in freezer section ) .
Method :
Mix together Flour , Yeast , Sugar , Salt & Butter .
Carefully add Saffron infused Milk & Egg .
Mix everything well .
If Your dough is sticky add more Flour .
Knead the dough until You have a soft dough .
Add Tutti Frutti into dough & mix everything well .
Take the dough out from the mixer & knead for a bit .
Cover & leave the dough for an hour , until its doubled in size , in a well oiled bowl .

Once its doubled , knead again & divide into 2 equal parts .
Knead each dough separately & shape into a loaf .
Place the dough inside a greased loaf pan .

Let the dough rise again till it reaches the rim , about 40min .
Bake in a 325degree  pre-heated Oven for about 30-35min or until the top is golden brown & bread sounds hollow when tapped at the bottom .
Brush some Butter on top of the warm Bread .
Let it cool down completely  before slicing .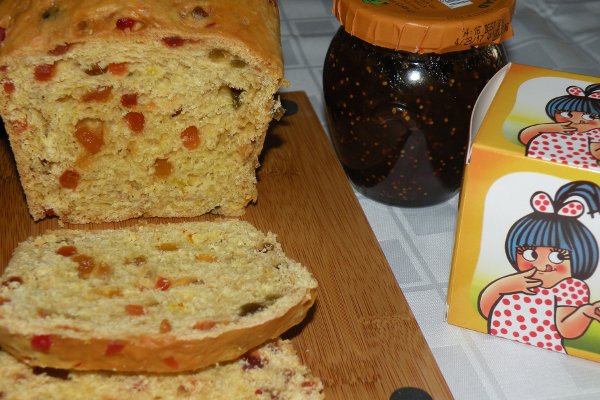 Serve it with Jam or Butter .
Enjoy !!!!!!