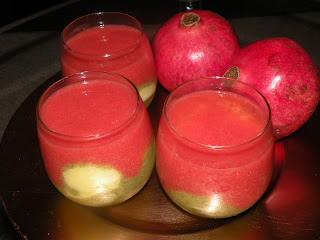 Cut 2cup Pineapple , 1 cup Strawberry & 1 cup Kiwi .
Grind them separately with some ice .
Carefully pour each of them in a glass & serve with a mint as a decoration .
While grinding the fruit don't add water .
If fruits are not sweet add some Sugar .
When I did this recipe I added  water in Pineapple , that's why its not showing each color . If you do it without adding water you will get each layer properly .
While pouring into the glass take a spoon & slide each fruit mixture on the side of the glass .
I got this recipe from a Television program .
My kids loved it cos of its color.