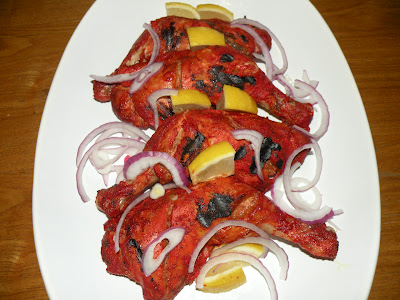 I don't have a tandoor to do this recipe , so I did it on the Oven .
For this recipe I used 6  whole Chicken legs .
Put some slits on the meat .
In a small bowl mix 1tsp Chili Powder , Salt & juice of a  1/2  Lemon .
Brush this Chili paste on to the Chicken Slits .
To make the Marinate you need :
6tbsp Thick Yogurt                      1/2 tbsp Black Pepper Powder
2tbsp Ginger Garlic Paste             1tbsp Cumin Powder
1tsp Chili Powder                         1tbsp Coriander Powder
1/2tsp Fenugreek leaves                pinch of Turmeric
1tbsp Lemon Juice                        1/2 tsp Garam Masala
Salt
Mix everything well & marinate the Chicken .
Pre-heat the Oven to 400 degree .
Place the Chicken on a baking tray & bake for 30min or until the chicken is cooked .
If you like , before serving just grill the Chicken  on a grilling pan .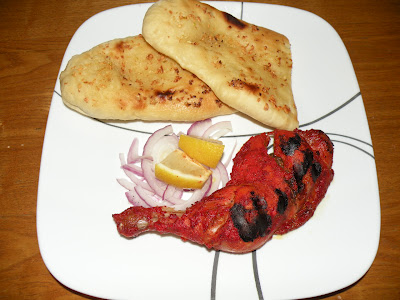 Serve it hot with Naan .