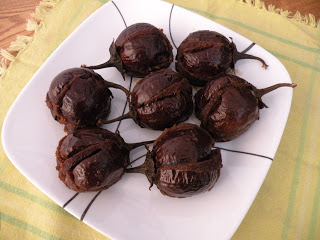 Clean 10 Brinjal . ( Don't remove its stem . Try to take small rounded Brinjals .)
Make a slit on Brinjal keeping the stems intact . ( Be patience while doing this )
In a pan put some oil & crack 1tsp Cumin Seeds , saute 1 chopped Onion , 4cloves garlic , 1tbsp grated Ginger & Curry leaves .
Into this add 1tbsp Coriander powder , 1tsp Chilli powder , 1/2tsp Turmeric powder & 1tsp Hing .
When the masala is fried add 1cup Grated Coconut , 3tbsp Jaggery , 2tbsp thick Tamarind pulp & Salt . Mix it until all the water is evaporated .
( While tasting this mixture it should have the taste of sweet , sour & heat . You can adjust its taste by adding more jaggery & tamarind to the mixture . Its upon individual taste . )
Carefully stuff this mixture into Brinjal & arrange it in a Cookie sheet . Just spray some oil on the top of each Brinjal & bake it in a 350 degree Pre – heated oven for 20 – 25min . After that broil on low for 5min , so that its top becomes crisp .
( You can do this on a non -stick pan also ,add some water to cook , be careful while you turn .)
Serve it hot with Rice or as an Appetizer .