Ingredients needed to make Stir Fried Sugar Snap Peas with Dried Shrimp:
1 pound Sugar Snap Peas ( refer notes* )
2-3 Shallots, diced
1tsp Garlic, minced
Curry Leaves
Dried Shrimp / Cleaned Fresh Shrimp ( refer *notes )
1tbsp Chilli Flakes
1/4tsp Turmeric
Salt
Oil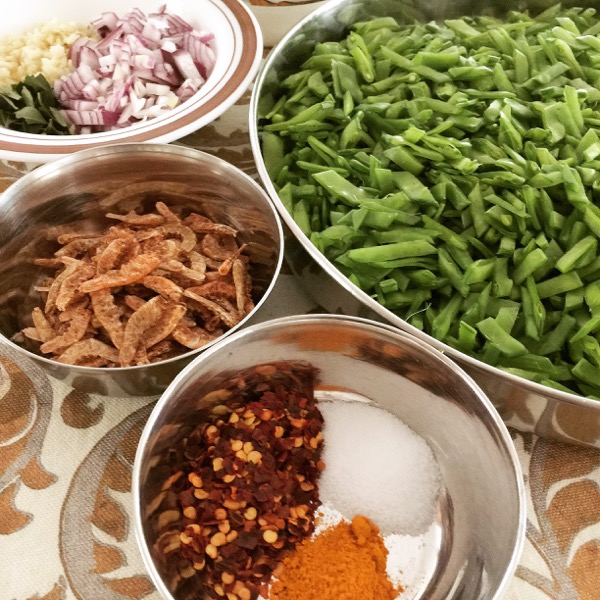 Method:
Heat some Oil in a pan and saute Shallots, Garlic and Curry Leaves together.
When Shallots turned tarsperant add Dried Shrimp.
Saute until Shrimp is ligtly toasted and has light golden color.
Add Chilli Flakes, Turmeric and Salt.
Mix everything well and saute until the raw smell is gone.
Carefully add cleaned and diced Sugar Snap Peas and mix everything well.
Cook Sugar Snap Peas for about 3 to 5mins or until its crisp and bright green in color.
Don't cook it for long time.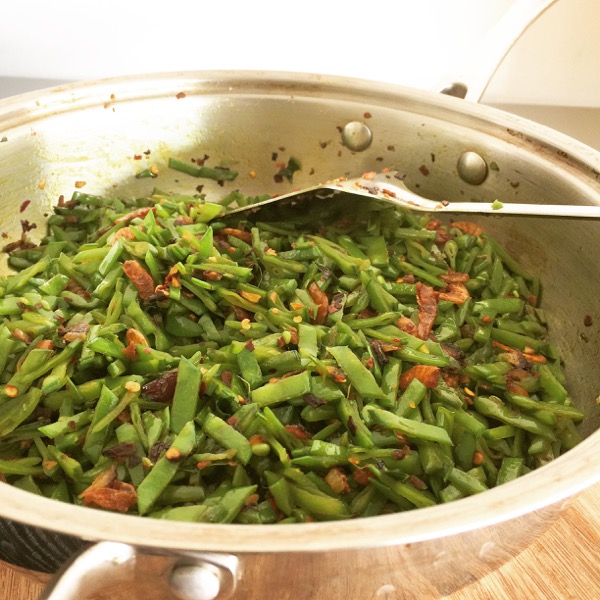 If needed add Chilli Flakes according to your taste.
Remove from heat.
Serve Stir Fried Sugar Snap Peas with Dried Shrimp warm with Rice.
Enjoy!!!!!!!!
*Notes: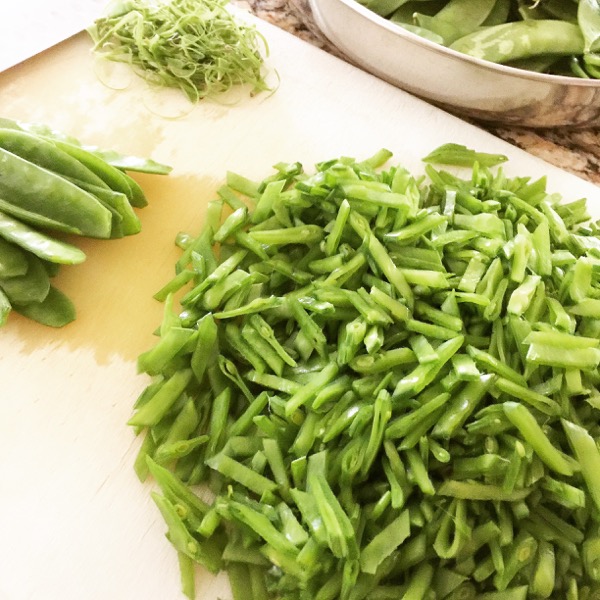 Cleaning Sugar Snap Peas: Wash Peas really good and using your fingers pull both the ends to remove the thread / string / fiber. I liked my peas to be small, so I usually slice them into small peices. Slice it according to your taste, it's always okay to keep it the same / lenghtwise.
You can always add more Shrimp or less Shrimp according to your taste. Sometimes I use cooked / fresh Shrimp in this reccipe, according to the availablity.
Always check the taste the dish and adjust Chilli Flakes and Salt according to individual preference.
Check Stir Fry Sugar Snap Peas with Fresh Shrimp recipe.
For detailed cooking video check: Stir Fried Sugar Snap Peas with Dried Shrimp
Stir Fried Sugar Snap Peas with dried Shrimp