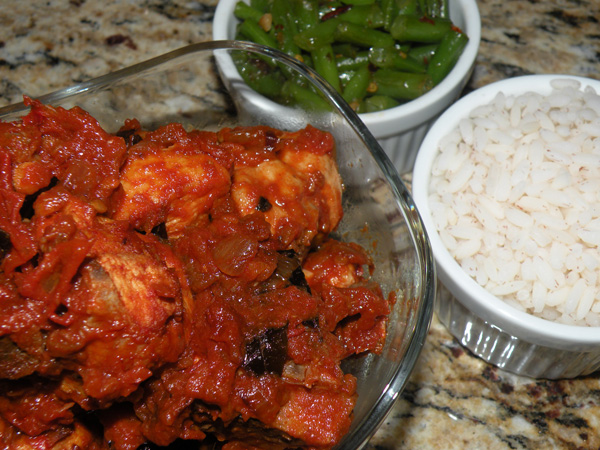 Ingredients to make Spicy Tomato Chicken Curry :
1 Whole Chicken , cut into medium or small size pieces
1 Onion , diced
1-2 bulb of Garlic , peeled & sliced into round pieces
Curry Leaves
8-9 Tomato , diced
3tbsp Chili Powder
Salt
Method :
Heat some Oil in a Non-stick pan & saute Onion , Garlic & Curry Leaves .
Saute Onion until it turns light golden brown in color .
Move  pan from the Heat & add Chili Powder .
Mix everything well on a low flame until the raw smell of Chili Powder in gone .
Add diced Tomato & mix everything well .
Cover the pan with a lid & cook the Tomatoes until its completely mashed .
Add Chicken & Salt into the Tomato mixture .
Mix everything well .
Cover the pan with a lid & cook until Chicken is cooked well .
Serve it hot with Rice or with Roti .
Enjoy !!!!!!!!!!!!!
Note :
If You want the Curry to have gravy , add some Water & boil everything well .
In this Curry its good to add more Garlic .
Don't add Turmeric or Black Pepper to this Curry , it will ruin the flavor .
If You want to reduce the Chili Powder & still want to have the same color , then use 1 1/2 tbsp Chili Powder & 2tbsp Paprika . Paprika will give the color & also the flavor without the spiciness .