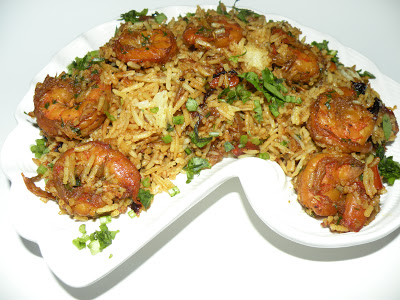 This Shrimp Biryani is my version , I think You all will enjoy this ………..

To Make Shrimp Curry :

1 pound cleaned Shrimp
2 Onion , diced
3tbsp Ginger , grated or paste
3tbsp Garlic ,paste
5-6 Green Chillies
3 Tomatoes , diced
Curry Leaves
Coriander Leaves
1tsp Chilli Powder
1tsp  Turmeric Powder
1/2tsp Garam Masala
Pepper Powder
Salt
Method :
Marinate the Shrimp with a pinch of Chilli Powder , Turmeric Powder & Salt .
Keep it aside for 30min .
Heat some Oil in a pan & sear the Shrimp .
When Shrimp turns light golden brown colour remove from heat .
On the same pan heat some more Oil & saute Onion , Ginger , Garlic , Green Chillies & Curry Leaves .
Allow Onion to turn golden brown in colour , then add all the Spices ( Chilli Powder , Turmeric Powder & Garam Masala ) .
Saute the Masala in a low flame for 2mins , then add Tomatoes .
Allow Tomatoes to cook down .
If needed add some water, make sure you don't add too much of water .
Add Seared Shrimp & mix everything well .
Allow the Shrimp to cook through .
Finish the Curry with some finely chopped Coriander Leaves .
To Make Rice :
2cups Basmati Rice
4cups Hot Water
1stick Cinnamon
5 Cloves
4 Cardamom
Salt
Heat some Ghee in a pan & add the Spices .
When Spices starts to pop add the Rice & fry for few mins .
Add Hot Water & Salt .
When water is reduced to the Rice level cover the pan with a tight lid & turn off the Gas .
After 20min open the lid & fluff the Rice .
For Garnish : 
1 Onion , thinly sliced
1/4cup each Cashew & Raisin
Ghee
Heat some Ghee in a pan & fry the Onion until it turns golden brown in color .
Also fry Cashew & Raisins too .
To Layer :
Take a big pan & brush some Ghee .
Put 1 layer Rice & over that put Shrimp Curry .
Sprinkle some fried Onion , Cashew , Raisins & Coriander Leaves .
Put another layer of Rice & continue the procedure until you finish Rice & Shrimp Curry .
On top drizzle some Ghee & bake in 350 degree pre-heated Oven for about 30min .
Don't forget to cover the pan with a tight lid .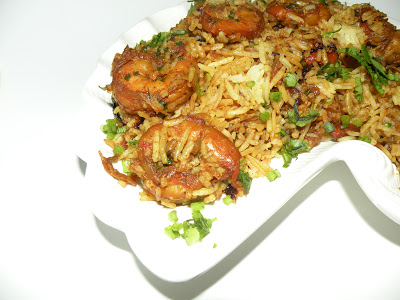 Serve Biryani with Raita & Pickles .