Shrimp Biryani ( Easiest Method )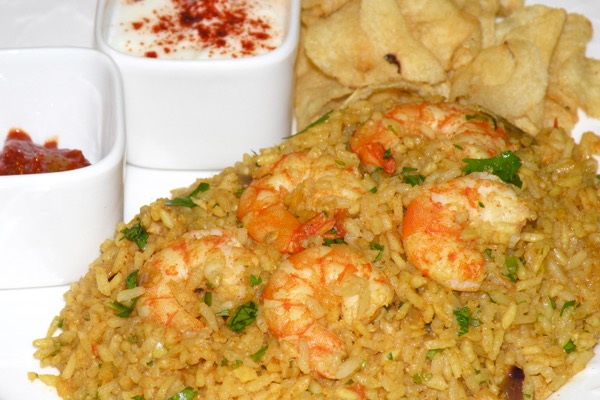 Ingredients needed for Shrimp Biryani:
1pound Shrimp, cleaned
2cup Basmati Rice, washed & soaked in water for 15min
4cup boiling Water
1 Onion, finely chopped
4-5 Green Chillies
Curry Leaves
3-4tbsp Ginger Garlic Paste
3 Tomato, diced
1tsp Chilli Powder
1/2tsp Turmeric
1tbsp Garam Masala
Coriander Leaves, for garnish
Ghee or Oil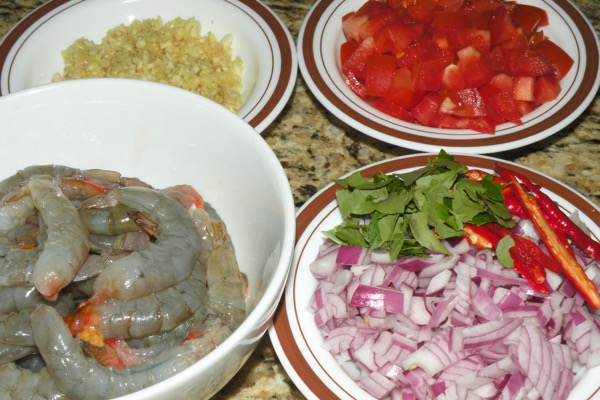 Method :
Heat Oil in a pan & saute Onion, Green Chillies & Curry Leaves.
Saute until Onion turns light golden brown in color.
Add Ginger Garlic paste & mix everything well.
Add Tomato & sprinkle some Salt, it will allow Tomato to cook faster.
When Tomato is cooked & mashed  add Chilli Powder & Turmeric.
Mix everything well & saute until the raw smell is gone.
Add Rice & mix until rice is slightly roasted.
Add boiling Water & Salt.
Carefully add Shrimp & mix everything together.
Sprinkle Garam Masala on top.
When Rice & Water boil's & comes to the same level cover the pan with a tight lid & turn the heat off.
Let it sit there for about 20-25min.
( Don't open the lid )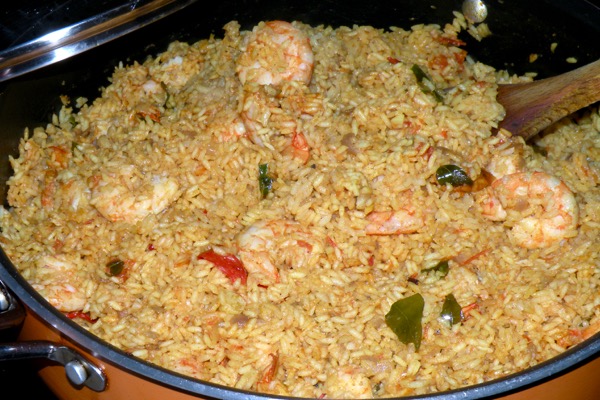 Open the lid & using a fork fluff the Rice & sprinkle some Coriander leaves.
Serve Shrimp Biryani hot with Raita & Pickle.
Enjoy!!!!!!!
*Notes:
I tried my best to create a dish which is easy to do & uses only one pot to cook & satisfy your soul for the craving for Biriyani.
While cooking the Rice you should make sure you follow couple of steps properly.
1) Make sure you use boiling Water.
2)Make sure to keep an eye on the Rice coz it will reduce the level of Water very soon.
3)When you see the Water & Rice is on the same level make sure to use a tight lid to cover the pan.
4)Once the pan is closed & the gas is turned off make sure you don't open the lid for another 20-25min coz the Rice is getting cooked with the steam trapped inside the pan.
If you follow these steps properly I can assure that you will get a perfectly cooked Rice every single time.
[fbcomments url="http://subyskitchen.com/wordpress-plugins/facebook-comments/" width="375″ count="off" num="3″ countmsg="wonderful comments!"]