Today , I made Shrimp Ball Curry at my Home  ……….. Its very easy to do & gives a whole new dimension to Shrimp ……………..
This is my Mom's recipe …..
So lets start :
Ingredients : To make Shrimp Ball Curry 
 To Grind :
200gm Shrimp , cleaned
200gm grated Coconut
1 Green Chilli
4 cloves of Garlic
2tbsp Ginger , grated
Curry Leaves
1/4tsp Fennel Seeds
1/2tsp Garam Masala
1/4tsp Turmeric Powder
Salt
Method :
Using a Food Processor , coarsely  grind the Shrimp .
Remove the Shrimp into a bowl .
Into the same food processor , add the rest of the ingredients & pulse until the Coconut is coarsely grinded .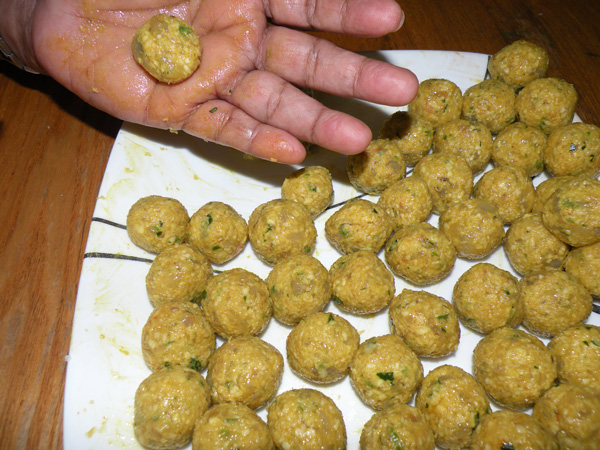 Mix Coconut & Shrimp together & make small balls .
Keep it on a side .
To make the Gravy :
3cup Thin Coconut Milk
1/2cup Thick Coconut Milk
4tbsp Coriander Powder
1tsp Chilli Powder
1tsp Turmeric Powder
1tbsp Black Pepper Powder
1tbsp Garam Masala
Salt
1tbsp Ginger , thinly sliced
2 Green Chillies , sliced
Curry Leaves
3tbsp Vinegar , use according to Your Taste
Method :
On a big pan mix Thin Coconut Milk , Coriander , Turmeric , Chilli , Garam Masala , Pepper , Green Chillies , Ginger , Curry Leaves , Salt & Vinegar .
Mix everything well & bring to a boil .
Allow the mixture to boil for around 2min .
Carefully add the Shrimp Balls , now don't use any spoon inside the pan , just rotate the pan occasionally .
Cover the pan with a lid & allow the Shrimp balls to cook .
Pour the Thick Coconut Milk & remove from the heat .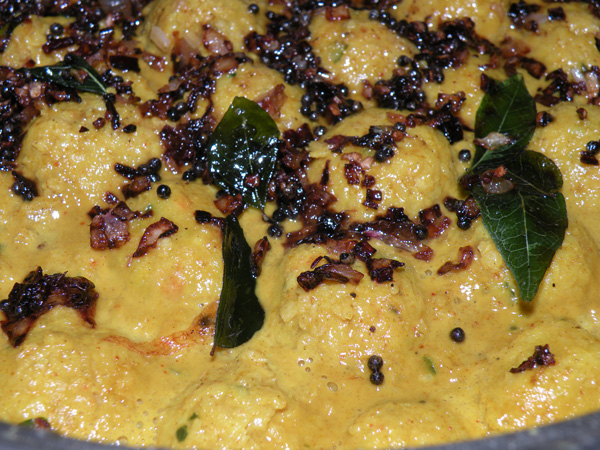 Serve it hot with Rice .
Enjoy !!!!!!!!!!!!
* Note : If You like , heat some oil & crack Mustard , Curry leaves & fry thinly sliced Onions & pour on top of the Gravy ……………