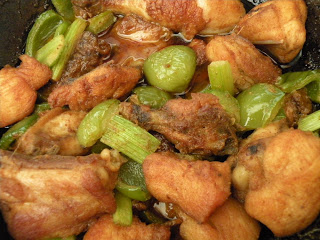 Cut Chicken into medium size pieces .( For this recipe I used half of a whole Chicken. ) Cut 1 Bell Pepper & 2 Sticks of Celery into medium size pieces .
Grind 2tbsp Chilli Powder , 1tbsp Ginger Garlic Paste , 1pinch Methi Seed , 1 pinch Mustard Seed & Salt . ( Soak Methi in little bit of water for about 10min .When you add salt be careful cos in Soy Sauce also there is lot of salt .)
Transfer the Chicken pieces into a Pan , then add the masala paste into the chicken . Cover the pan with its lid & cook it for about 10min . Just cook the chicken half the way . ( If you needed u can add some water .) Save the gravy .
In an another pan pour some Refined Oil & fry all the chicken pieces . Once all the chicken is fried, add the Green Bell pepper & Celery . Just toss that vegetables in the oil & remove from the oil & keep it in an another plate . Pour the Gravy into the oil & cook for about 2min . Into that add 2tbsp Soy Sauce ( thick Soy Sauce is good ) . When the sauce is little bit thick add all the chicken pieces and cook the chicken in that gravy . Once the chicken is cooked add the fried vegetables . Serve it hot with Rice or Roti .
( This is my Mom's recipe ……………)