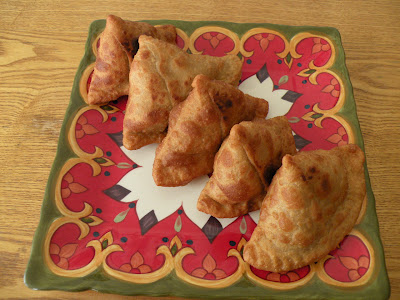 I love Samosa , but today I don't want to make it in Maida . So I used Aashirvaad Multi grain Wheat Flour to make this Samosa . I liked it , the only thing I felt is, its not very crunchy . I think next time when I make , I should add some Sooji ( Semolina ) to the Flour to make it crispy .
Ingredients : To make the  Crust of Samosa

1 1/2 cup Multi grain Wheat Flour
2tbsp Oil
Salt
Water
Mix everything well & make a soft dough .
Cover it with a plastic wrap for about 20min .
Mean while make the filling .
Ingredients : To make the Filling for Samosa 
5 medium Potatoes ( Cooked & Cubed )
1 small Onion
1tbsp Ginger & Green Chilli Paste
1/2 cup Green Peas
1tsp Whole Coriander Seeds
1/4tsp Cumin Seeds
1/2tsp Garam Masala
1/4tsp Turmeric Powder
Coriander Leaves
Salt
Heat some Oil in a pan & crack Cumin & Coriander Seeds .
Add finely chopped Onion , Ginger & Green Chillies .
When Onion turns transparent add Green Peas .
Allow the Green Peas to cook .
Into that add Garam Masala , Turmeric Powder & Salt .
Add the cooked Potatoes & mix everything well.
When everything is combined add some Coriander Leaves & turn off the gas .
Allow it to cool completely .
Assembling Samosa :
Divide the dough into equal portion balls .
Roll out each portion into an oval shape .
Do not roll it very thin .
Cut it into half .
Lift 1 side of the flat edge & brush some plain water , lift the opposite side & overlap the 2 edges to form a Cone shape . Seal the sides properly .
Stuff the filling inside the cone & seal the mouth of the cone together .
Heat some Oil in a pan & deep fry until it turns golden brown in colour.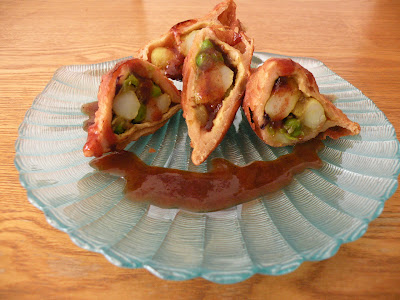 Serve it hot with Mint Chutney or Tamarind Chutney or with Ketchup.