Rasam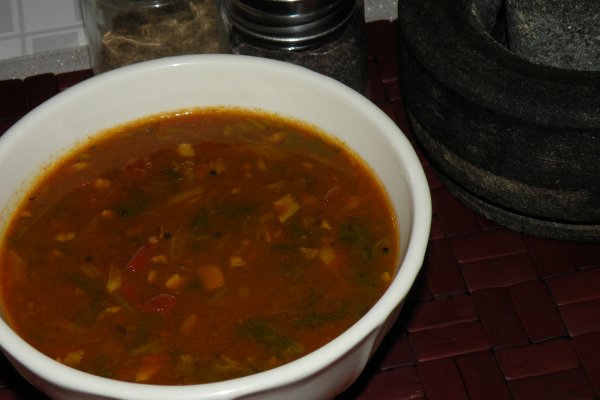 Rasam is a South Indian style Soup, which is made with Tomato & Spices .
I still remember, when I get sick (like cough & cold ) my Mom always used to make Rasam & make me drink it . Rasam  always helps to opens my sinus . Still now, when I get sick I always make Rasam .
Rasam is also a very good combination with fried foods . When I make Fish fry or Chicken fry I always make Rasam as a side dish, its a popular combination in my Home .
Ingredients needed to make Rasam :
5-6 Tomato, diced
3-4 Shallots, crushed
4-5cloves of Garlic, crushed
1/2inch of Ginger, crushed or mashed
1/4tsp Mustard Seed
Pinch of Methi/Fenugreek Seeds
1/4tsp Cumin/Jeera
1-2tsp Coriander Powder
1/2tsp Chilli Powder
1/4tsp Turmeric Powder
Crushed Black Pepper
1/2tsp Hing/Asafoetida
Salt
Tamarind Juice / Concentrate
Curry Leaves
Coriander Leaves
Water
Coconut Oil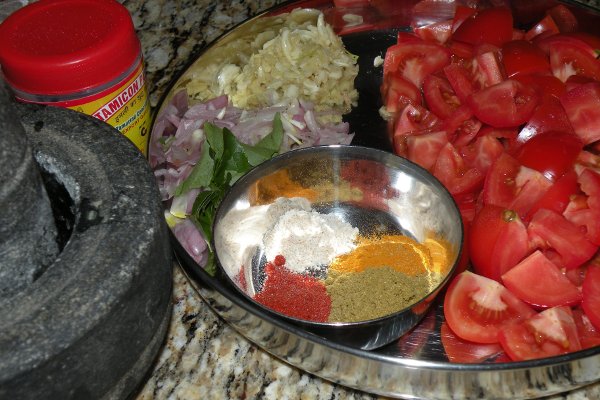 Method :
Heat some Oil in a pan & add Mustard seeds .
Allow it to pop & then add Cumin & Fenugreek seeds .
Add Shallots, Ginger, Garlic & Curry Leaves .
Sauté for few seconds & add all the powder's (Chilli, Turmeric , Coriander, Black Pepper & Hing ).
Sauté for few seconds & then add Tomatoes & Salt .
Mix everything well & allow Tomatoes to cook down .
Add Tamarind water ( refer the *notes) .
Boil everything together & if needed add more Water .
Taste & make sure everything is perfect .
Turn the Gas off & garnish with Coriander leaves .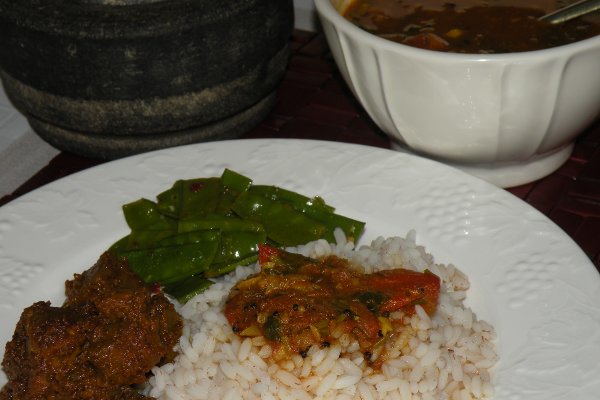 Serve it hot with Rice or serve it as a Soup .
I served my Rasam with Rice, Pork Fry & Snow Peas .
Enjoy!!!!!!
*Note :
Its always better to crush or mash Ginger & Garlic ( rather than paste )while You make Rasam . It will comfort Your throat & will also good for clearing Your sinus when You have cough & cold .
I always use Tamarind concentrate for all my cooking . Usually before adding to any gravy or curries I usually dilute it with some Water .
For this recipe I took 1/2tsp of Tamarind concentrate & mixed it with 1/2cup of Water .
After cooking Rasam, always remember to taste it . Sometimes You will need more Black Pepper & Hing . Always adjust spices according to Your taste buds .