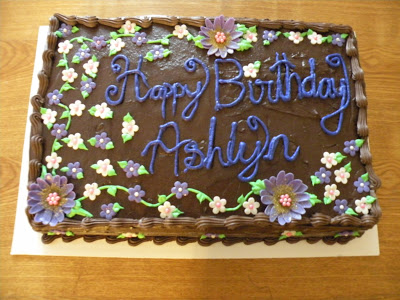 I made this Purple Flower  Cake for a 4yr old Girl . The only thing  she asked  me was , she need a Chocolate  Cake with Purple Flowers . At first I was so worried cos Purple & Chocolate don't go well together . But still I taught to give a try .
I made all the  Purple Flowers in fondant & brushed each flower with Sliver Dust .
Anyway , she loved the Cake a lot & I was so happy to see her excitement .
For this Purple Flower Cake I made 2 Chocolate Cake & frosted with Chocolate Frosting . I tried a new recipe for Chocolate Frosting . It was so easy to make & gave me the  perfect Chocolate Frosting ever .
So here is the recipe for Chocolate Frosting :
1/2 cup Hot Melted Butter
2/3 cup Coco Powder
3 cup Powder  Sugar
1tsp Vanilla Essence
1/2 cup Heavy Whipping Cream
Method :
In a big bowl combine melted Butter & Coco together .
Using a beater beat both the ingredients together .
Add Vanilla Essence , beat well .
Carefully add Powder Sugar , 2-3tbsp each time .
Otherwise you will get a Frosting full of lumps .
In between add Cream also .
Scrape the bowl nicely & beat well .
Use the Frosting according to your wish .
*Note : Try to use Hot Butter , it will allow the Coco to release all of its essential  Oil & will give that dark brown colour.