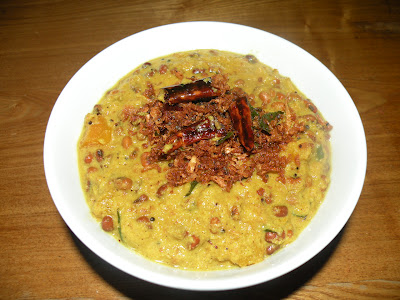 Pumpkin Erissery is an easy recipe to make ……..
Pumpkin Erissery is a mixture of cooked Beans , Pumpkin & Coconut . Its a great 1pot Meal ……….
So lets start cooking
Ingredients : To make Pumpkin Erissery
2 cup Yellow Pumpkin cleaned & cut into cubes
1/2 cup Red Chori / Azuki Bean / Van Payar
Soak the Beans in water for about 6hrs .
Cook the Beans with some Water , Salt & Black Pepper Powder .
Remove the cooked Beans from the Pan & on the same pan cook the Pumpkin .
When the Pumpkin is cooked , add the cooked Beans & mix everything well .
To grind :
1/2 cup Grated Coconut
1/2tsp Cumin Seeds
2 Whole Red Chilli
2 Green Chilli
1tsp Turmeric Powder
3 cloves of Garlic
Mix all the ingredients together & make a fine paste using a grinder .
Pour the Coconut mixture onto the cooked Pumpkin .
Adjust the Salt , if needed .
For Garnish :
1tsp Mustard Seeds
2 whole Red Chilli
Curry Leaves
1/4 cup grated Coconut
Heat some Coconut Oil in a pan & splutter Mustard seeds .
Add Red Chilli , Curry Leaves & grated Coconut .
In a low flame fry the Coconut ,until it turn brown in colour .
Add this fried Coconut mixture on to Erissery & mix everything well .
Serve it hot with Rice .
Enjoy !!!!!!!!!!
*Note : While cooking Pumpkin & Beans , be sure not to add too much of Water . If there is too much Water , then just drain away the excess Water .