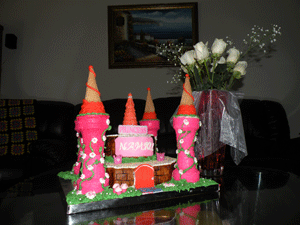 It was my little Princess B'day ……… She turned 4 on July 9th .
Only thing She asked Me to do , is to make a Princess Castle Cake .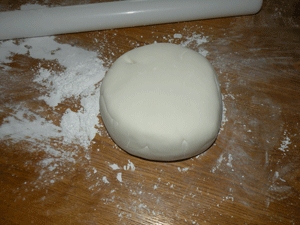 I made some home-made Marshmallow fondant to cover the whole cake & also to do all the work.
Using Cake  cones I made the pillars for the Castle . Each cones where covered with pink coloured fondant & rolled in pink coloured  sugar  .
To make the spires I used Waffle Cones . I rolled the Orange coloured fondant & cut some rounds using my pipping tip & glued it to the cone . For a different style I rolled some thin ropes of fondant & glued to the cone. You can do anything according to Your imagination ……….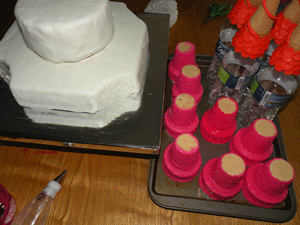 I made 2 simple Vanilla  Cakes , 1 was a square & other was a round shaped Cake .
I covered the both Cakes with Butter-cream frosting & on the square shaped Cake , I cut the sides in a semi – circle way , so that the Pillars should fit inside . After that I covered both the Cakes with Fondant .
I made some Flowers , Grass , Doors for the Castle , Mushroom's etc ………
At first I left the sides of the Castle plain white , but my Husband was like something is missing from the Castle . According to him there was a lot of white space in the Cake , which doesn't look good . So I taught to give Castle a wall look feel . Using the back side of the knife I carefully gave the impression on the fondant & brushed brown colour . It really came out well .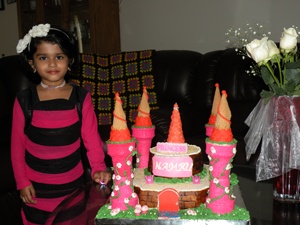 My Princess was so happy with Her Castle Cake ………….. & as a beginner I am very happy with the outcome ……….