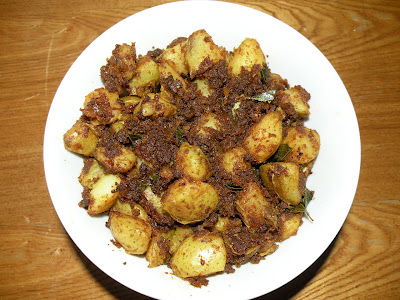 This is a easy recipe . I used 6 baby potatoes for this recipe . Wash the potatoes well & cut into medium cubes. I didn't remove the skin , if you want then peel  the skin .
For this recipe I used Meat Masala to make the curry .
Use any brand of meat masala , I used Double Horse .
Cook the potatoes in some water & drain all the liquid .
Chop 1 Onion , 4 cloves of Garlic , 1tbsp grated Ginger & Curry leaves .
Heat some oil in a pan & saute all the chopped ingredients .
Add 3tbsp Meat masala & fry in a low flame for 5min .
Add the cooked Potatoes & Salt .
In a medium flame fry the potatoes or until all the liquid is evaporated .
Serve it hot with Rice .
If you want add 1 Tomato & mix everything well .
If needed add some water & keep some gravy .
This is a good curry for Roti .