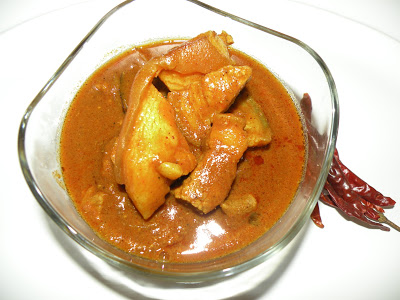 Ingredients :
2 1/2 pound Pork ,diced
1 Onion , diced
Curry Leaves
Salt
Masala's to grind :
1/2tsp Mustard Seeds
1/4tsp Fennel Seeds
1 bulb of Garlic
7-8tbsp grated Ginger
3tbsp Chilli Powder
1tbsp Turmeric Powder
1tbsp Garam Masala
1tbsp Black Pepper Powder
1/4 – 1/2cup Vinegar
Using a blender or grinder make a fine paste of Masala .
Method : ( To Make Pork Vindaloo )
Heat some Oil in a non-stick pan & saute Onion & Curry Leaves .
When Onion turns golden brown in colour add the grinded Masala .
On a medium flame fry the Masala .
Saute or fry  the Masala until you gets a nice aroma .
Add Pork & Salt .
Mix everything well & cover the pan with a lid & stir occasionally .
If needed add some water to the Curry .
Cook until the Pork is cooked through .
Serve it hot with Rice .