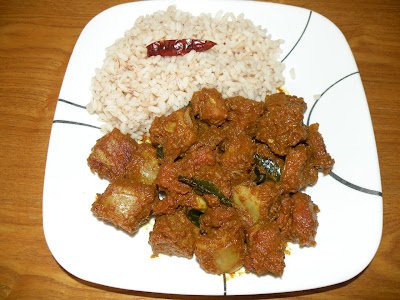 Pork Fry is one my families favourite recipe. This recipe is one of the easiest way to prepare delicious Pork Fry .
I usually buy baby Pork ribs for this type of preparation . I used around 4 pounds of Pork ribs for this recipe .
Clean & cut Pork into small pieces .
Chop 1 whole bulb of Garlic, 5tbsp Ginger & Curry Leaves .
( If you don't like that much of Garlic , add according to your taste )
Add 3tbsp Chili Powder , 1tsp Turmeric Powder , 2tbsp Coconut Oil  & Salt .
( Adjust Chili Powder according to your taste , in my home we all love to eat spice food )
Put everything in a big pan & using your hands massage all the spices into the Pork .
Add 1/2 cup of Water into the pan & cook the Pork in a medium flame .
Cover the pan with a tight lid & don't forget to stir .
Keeping in medium flame  fry the pork or allow all the water to dry up.
Serve it hot with Rice .