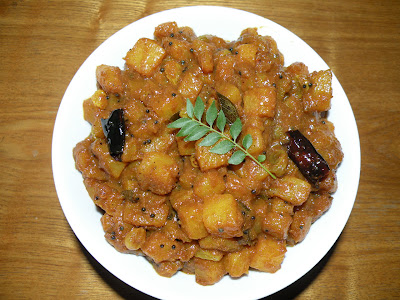 I got this recipe from my friend . Typically this curry used to make in Brahmin homes . If you are  a person who loves the combination of  sweet , salty , spicy & sour taste , I am sure You will love this . For this recipe You need :
3cup diced Pineapple
1/4cup Raisins
1tbsp Chili Powder
1/2tsp Turmeric Powder
1tbsp Tamarind Pulp
1/4cup Water
Salt
Combine everything in a pan & cook the Pineapple .
1tbsp Urad Dal
1tsp Whole Coriander Seeds
1tsp Whole Black Pepper
2/3 cup Grated Coconut
Coconut Oil
In a non-stick pan heat some Oil & fry Urad Dal , Pepper & Coriander Seeds .
Add the Coconut & fry until Coconut turns golden brown in color .
By adding some water grind the fried coconut mixture into a fine paste .
Pour this mixture on to the cooked Pineapple & mix everything well.
Taste the curry & adjust the Salt .
If you need more to be spicy add some more Black Pepper Powder .
If the sweetness of Pineapple is less , then add 1tbsp Jaggery & mix everything well .
1tsp Mustard Seeds
2 Whole Red Chilies
Curry Leaves
Coconut Oil
In a pan heat some oil & splutter Mustard Seeds .
Add Red Chilies & Curry Leaves .
Fry everything & pour over the top of the Pineapple Curry .
Mix everything well .
Serve it hot with Rice .