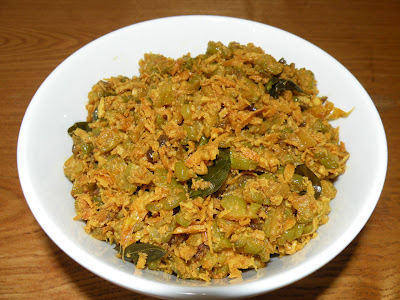 In my home my Mom  used to make Pavakka in different style . This is the one recipe I love .
For this recipe you need :
3-4 medium sized Bitter Gourd
1 medium sized Onion
3-4 cloves of  Garlic
Curry Leaves
2tsp Chili Powder
1/4tsp Turmeric Powder
1/4cup grated Coconut
Salt
In a pan heat some Oil & saute finely chopped Onion , Garlic & Curry Leaves .
When Onion turns golden brown in color , add all the Powder's .
Mix everything well & fry in low flame for few min .
Add grated Coconut & thinly sliced Bitter Gourd .
Cook until Bitter Gourd is cooked through & its dry .
Serve with some hot Rice .